If you are in the market for a digital voice recorder, you will quickly find hundreds to choose from, and you may not have time to evaluate them. That's why we are here to help.
In this guide, we will show you what to look for and take a look at the best available to help you find one that fits your needs. Here's a quick summary of our recommendations: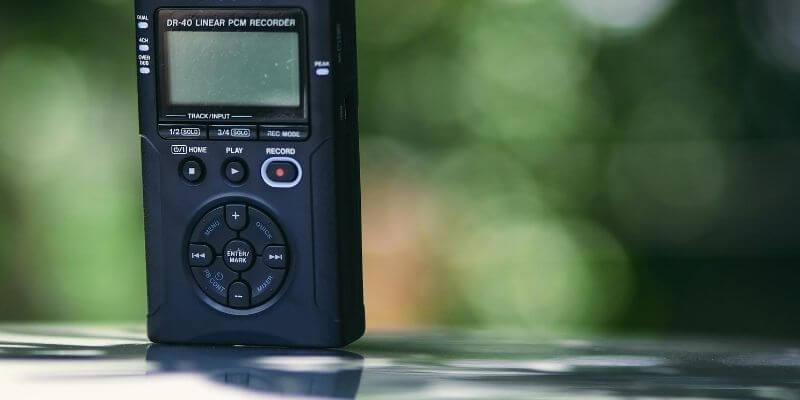 If you're looking for the best all-around performer, you can't go wrong with the Sony ICDUX570. It's our top choice because it performs exceptionally well in every area. The ICDUX570 is a versatile recorder that can be used for many applications: recording voice notes in a quiet room, recording a professor in a lecture hall, and even recording a speaker at a noisy press conference. It can even record music with quality results, though it's not designed to do that.
If you are an audiophile or a musician, look at the Roland R-07. It's our best pick for music-specific applications because of its top-quality recording capability and advanced features tailored for music recording. The R-07 also performs well in voice applications, so musicians can keep track of those lyrics they think of when they're not in the studio.
Our budget pick, the EVISTR 16GB, is a great low-cost solution for anyone in need of a voice recorder. It's easy to use and has features for almost any application.
While these are some of our top picks, there are many others to choose from. Later in this roundup, we will also discuss some other quality sound recorders. Keep reading to learn more!
Why Trust Me for This Guide
Hi, my name is Eric, and digital audio has been an interest of mine since the late 70s when I got my first computer and learned how to write simple routines to create funny sounds. In the mid-90s, I got my first job as an engineer developing the digital alarm sounds for industrial emergency notification systems. Since then, I have moved on to other things, but I have always kept my interest in the audio field.
As a software engineer and a writer, I know the frustration of documenting that excellent idea, not having a convenient way to record it, and then forgetting the details later. If you're in the middle of something and don't have a quick, painless way to record those thoughts, you may lose valuable information. Over the years, I have found that having a convenient way to record those ideas can be a real difference-maker.
I often think of solutions to software issues or ideas for writing while doing something completely unrelated—waiting for my daughter's appointment at the orthodontist, watching my son at basketball practice, etc. With a digital voice recorder, I can quickly start recording, give the details of my thoughts and ideas, and have them ready to review later. Easy, right? It can be with the advanced devices available today.
The Modern Voice Recorder
Using a voice recorder to record your thoughts and ideas isn't something new. You may have seen old dictaphones in movies or TV shows. Think of scenes where a doctor or private investigator carries around a large, cumbersome tape recorder to document important thoughts. If you are old enough, you may have even used one. I once had one of those heavy cassette recorders as a kid in the 70s. Then, in the late 80s, I had a microcassette recorder, which was a little lighter.
Neither of these was easy to carry around, and they weren't convenient to use. Fortunately, modern digital voice recorders have come a long way. They're simple and so compact that we can take them anywhere we want. Using digital audio also provides several features that make them much more powerful than their analog predecessors.
Modern recorders have a distinct advantage over dinosaur-like analog recorders: no magnetic tape or moving parts. Not only are they smaller, lighter, and more compact, but they are also more reliable, require no maintenance, and have much longer battery life.
Digital recorders are also more versatile. They can connect to computers and other devices via USB or Bluetooth. Finding the audio you recorded does not require fast-forwarding or rewinding through an entire tape. The digital data can be easily transmitted, modified, and manipulated on a computer or even a phone.
While it's possible to record live voice and music on our phones, a dedicated digital voice recorder can do it better. Often these devices record with the touch of a button—no fumbling around for your phone, unlocking the screen, trying to find your voice app while missing audio that you wanted to record.
With a digital voice recorder, you record high-quality mics made to pick up voice and music while blocking out background noise. They are small enough and light enough to go in your pocket and make it easy to go back and find the audio you're looking for. These dedicated devices make it simple and easy to focus on what you want to record.
Who Should Get a Digital Voice Recorder?
So far, we have discussed using a recorder to keep and organize our thoughts and ideas so we may come back to them later, but this is just one use for a digital voice recorder.
One of the most common applications is for students to record class lectures. As students, we often sit and take notes; while writing, we may miss much of what the instructor says. With a digital voice recorder, we can record the entire class while listening intently, then go back later, listen again, and take notes.
We also see voice recorders used by media and news personnel. When someone is giving a speech, they may record it. If they ask the speaker questions, they record the speaker's answers. Media folks use recorders while interviewing subjects when preparing stories or content.
Musicians find digital voice recorders handy as well—not only for lyrics that come into their heads but also for rhythms and melodies they may come up with while on the go. Even if they have no instruments available, they might record themselves humming a tune or tapping to a beat, so they can later go back and turn it into an unforgettable track.
Music and film applications are endless. You might want to record the audio of your daughter's orchestra concert. If you're filming a play, you might record the audio separately from your camera to get better sound quality. Recording sound effects in the field is much easier with these portable units.
There are also many uses in law enforcement, private investigation, and the insurance industry. We've just scratched the surface here. Applications for digital voice recorders are nearly endless.
Best Digital Voice Recorder: The Winners
Best All-Around Performer: Sony ICDUX570
The Sony ICDUX570 is an outstanding recorder that performs very well in all areas. If you're looking for one device to do all of your audio recording in multiple situations and environments, this is the one for you.
Three different recording modes—Normal, Focus, and Wide Stereo—give you options for multiple recording environments
Slim, compact design fits almost anywhere
Built-in stereo microphone
Voice-activated recording means you don't even have to press any buttons
Direct-connect USB does not require any cables
4 GB of storage allows 159 hours of audio storage in MP3 or 5 hours in high-quality Linear PCM
Micro SD card slot for more storage space
Digital pitch control enables you to adjust the playback speed
Simple easy to navigate user interface with easy to read recording level indicators.
Headphone jack and external mic jack
Quick charging and long battery life
I have been using Sony products for many years. They're not always the flashiest products and might not be the top performer in specific categories, but one thing I have found is that they perform great in all the right areas. I have also found they usually produce reliable, durable products you can count on. I still have a 1979 Sony Trinitron television, and it works fine.
This digital voice recorder seems to verify my previous experiences with other Sony products. Its sound recording quality is outstanding, especially the everyday voice recording it was designed for. It can also perform higher-quality recording when needed. The premium mic and three different recording modes ensure terrific-sounding audio in any setting.
The interface is perfect for general note, speech, and lecture recording. The record button or voice-activated recording makes it super simple to use. Its file format options, storage, and quick-charging battery make it one of the most versatile recorders in its class.
With the multitude of competitors out there, even other Sony products, the ICDUX570 rises to the top. This one can almost do it all. Its outstanding performance, versatility, and features add up to make this our top all-around performer. Finally, it does it all at a very reasonable price.
Best for Audiophiles and Musicians: Roland R-07
If you're a musician or you're really into high-quality audio recording, take a look at the Roland R-07. While performing well at recording voice, it excels at recording music and other types of audio like sound effects.
Comparing the sound quality of a smartphone to the Roland is like night and day. You will instantly notice the difference; all thoughts of using your phone to record audio will fade away.
High-end dual mics capture audio in mono or stereo.
Ability to record top-quality 24 bit/96KHz WAV format or up to 320 Kbps MP3 files
The dual-recording feature lets you record in both formats at the same time.
9 "Scenes" or preset level settings are available for almost any recording environment.
Scene settings can be customized and saved for future use.
A remote control is available via Bluetooth from both Android and iOS devices.
Its rubberized back reduces handling noise.
Small and lightweight
2 AA batteries allow 30 hours of playback time or 16 hours of recording.
Easy-to-read LCD
Roland has been designing and producing top-of-the-line musical instruments and devices for years. As one of the leaders in audio engineering, it's no surprise this recorder is packed with technology that helps you record high-quality audio.
With its compact size, it's almost like carrying a small recording studio in your pocket. I would have loved to have one of these back in my days of designing audio systems and creating alarm sounds. The bulky equipment that we had filled up one whole side of a room. With this device, I could have gone out in the field and recorded real sound effects with extraordinary sound—at a fraction of the footprint.
The dual recording capability is a great feature to have. The input levels, which can be selected using the "Rehearsal" button, and the different scenes which allow you to choose from several presets, are an excellent addition. The scenes are aptly named: Music HiRes, Field, Loud Practice, Vocal, and Vocal Memo. You can easily tell which ones to use in certain settings.
All of the Rehearsal and Scene configurations can be adjusted to suit your needs and then saved for future use. It may seem like it would make using this device quite complicated, and it can be if you are someone who wants to fine-tune the settings. Because of the presets, though, using the R-07 can also be as simple as the touch of a few buttons.
Bluetooth technology allows the recorder to be controlled remotely with an Android or iOS device. It can be handy if you want to set your recorder up near the stage for a performance, speech, etc., and control it from across the room. The remote connection lets you do more than just start and stop the recording: you can also control the input levels on the fly from your remote connection.
The Roland R-07 is still very affordable. It's a superb option that works not only for everyday voice recording but high-fidelity recording situations.
Best Budget Pick: EVISTR 16GB
While our other two winning picks are relatively affordable, we wanted to select a budget pick that provides all the tools you need to record quality audio. The EVISTR 16GB fits that bill. For a budget pick, it's loaded with many of the features you would see in a high-priced product.
Its 4"x1"x0.4" profile can fit almost anywhere and weighs only 3.2 ounces.
Records in MP3 format at 128Kbps or 64kbps
Records WAV files at 1536 Kbps
16Gb of storage allows you to store over 1000 hours of audio
SD card slot for extra storage
Compatible with both Windows and Mac
Durable metal body
Easy to use
USB interface and charging
Voice activation mode records only when there is sound present
As you can see, this device has some impressive features. Other than the price, one of the best things about the EVISTR is how easy it is to use. You can start recording right out of the box. Its large storage capacity means you have a long time before you have to worry about cleaning out your old files.
With the voice activation feature turned on, the EVISTR helps you save even more space. It will record only when someone is speaking, then shut off when there is silence.
The EVISTR 16GB is a nice little recorder for a fantastic price. Even if you need to purchase one of the more expensive recorders for most of your work, you may want one of these as a backup to your high-end recorder.
Best Digital Voice Recorder: The Competition
The digital recorder market is a large one, and there are many competitors. Sony alone has enough models to warrant an article all on its own. Let's take a look at some of the competition from various manufacturers.
The Olympus WS-853 is a great all-around digital voice recorder that is packed with features, performs well, and records good-quality sound. Here are some features it offers.
8 Gb of internal storage for 2080 hours of recording
MP3 file format
Micro SD card slot so you can add more space
USB Direct connection requires no cables
Adjustable playback speed control from 0.5x to 2.0x
True Stereo Mic with two 90-degree positioned microphones
Auto Mode can automatically adjust microphone sensitivity
Noise cancellation filter gets rid of unwanted background noise
Small, compact size
Compatible with both PC and Mac
The WS-853 will fit most people's needs, and it has some features that make it a strong competitor. A few negatives keep it from rising to the top of our list. The LCD screen is hard to read due to its small text and lack of backlighting. The playback speaker does not have terrific sound quality, but this is not a problem if you use an external speaker or transfer the audio to another device.
Another downside to this unit is that it only records in MP3 format. Most of the issues are not a big deal; if you find some of the other features more critical, this could still be a viable solution.
If you're looking for a budget pick and still want the Sony name, the Sony ICD-PX470 is a fabulous choice. It has everything you could ask for in a basic voice recorder and more. The price is a shade higher than our budget pick, which is why it was not the winner, but if you're willing to shell out just a few more bucks, this one is worth taking a look at.
The direct USB connection makes it easy to transfer your files.
4 Gb of built-in memory
Micro SD slot allows you to add 32 Gb of memory
55 hours of battery life
Adjustable microphone range
Background noise reduction
Stereo recording
MP3 and Linear PCM recording formats
Calendar search helps you find recordings from a specific date.
Digital pitch control lets you slow down or speed up the recording to help with manual transcription of speech.
The ICD-PX470 is a great product for anyone looking for an outstanding quality recorder at a budget price. It is even available in a less expensive, mono-only version if you're not worried about having stereo recordings.
Like the other two categories we have featured, audiophiles and musicians also have other options for digital recorders. The Zoom H4n Pro 4 is an excellent choice that records high-fidelity audio that will be impressive to almost any ear. This one also has an abundance of features to help get those high-quality recordings.
24 bit, 96 kHz four-channel recording
Stereo X/Y Microphones that can handle up to 140 dB
Two XLR/TRS inputs with locking connectors
4 in/2 out USB audio interface
Low-noise preamps create a super-low noise floor
FX processor with guitar/bass amp emulation, compression, limiting, and reverb/delay
Records directly to SD cards up to 32GB
The rubberized ergonomic body makes it easy to hold and very rugged
The H4n is a high-tech recorder that is great for musicians. There are also H5 and H6 models available that give you even more features to work with. You will pay more for these models, so be sure to take a look at their features to make sure they are worth your investment.
There are a couple of things about this recorder that kept it from being one of our top choices. One of them is that the microphones are so sensitive that most people say they need to use a boom with it. If you hold it in your hands, it will pick up rustling sounds from handling the device. Another drawback to this one is that it can take 30-60 seconds to power up. If you are in a hurry to record something, you might miss it by the time the device is ready to record.
If you are a real audio enthusiast, the Tascam DR-40X is another one that you should look at. It's another 24-bit recorder that has lots of features for professionals and amateurs alike.
Here is another great performer. The Tascam DR-05X comes in at a very affordable price, has excellent sound quality, includes powerful features, and is easy to use.
Stereo omnidirectional condenser microphone captures soft sounds as well as loud, overwhelming sounds
Overwrite function with punch-in recording allows you to edit your audio files right on the device. It also has an undo feature in case your editing goes wrong.
Features a 2 in/2 out USB interface that works with Mac and PC
The auto recording function can detect sound and start recording
Playback speed control allows playback from 0.5X to 1.5X
Supports up to 128GB SD card
Runs on two AA batteries that last around 15 – 17 hours
Records in MP3 and WAV format
This one requires some setup and may not be as easy to use right out of the box. There have also been a few complaints about the quality of the plastic used on the battery door. Overall, this is a nice recorder that functions well in a variety of environments.
How We Picked Digital Voice Recorders
As stated previously, there is a multitude of digital voice recorders to choose from, so it's hard to determine which ones are the best for you. To find the best of these products, we looked at their specs and evaluated them on how they perform in critical areas relevant to their use. These are the key areas we considered:
Price
Digital voice recorders have a wide price range; the amount you spend will depend on your needs and what features you are looking for. For the most part, you can find all the features you need and a quality device at a reasonable cost.
Sound Quality
Recording quality is determined by the quality of the microphone, the bit rate of the recording, and the format used for the audio files. Filters may also be used to help reduce background noise.
You may not need high-fidelity recording for personal notation, but you may want to have the voice converted to text by a transcription app. In that case, it will need to be clear enough to translate the audio to text. On the other hand, if you are using the recorder for music, you'll want the highest-quality sound possible.
File Format
What file format(s) does the device use to save your audio? MP3? WAV? WMV? The format will, in part, determine the quality of the audio files that you have to work with and may decide what tools, such as transcription software, you will use to edit and use them.
Capacity
The storage capacity (along with file format, audio quality, and other factors) will determine how much audio you can store on the device. You don't want to record something vital and find out you have no space left on your recorder!
Expandability
Does the device have expandable storage capacity? Many have a slot for an SD or mini SD card, which allows you to expand your storage space. Fill one card up? No problem. Just remove it and insert a new empty card.
Ease of Use
How easy is the recorder to use? In most cases, our goal in using a dedicated audio recorder is to be able to start recording quickly at any time, in any situation. Look for one that is simple to use and can start recording on the fly. If it is difficult to use, then you're better off just using your phone.
Battery Life
Battery life is an essential feature of any electronic device. Digital audio recorders don't require as much power as tape players or even phones, so they generally have long battery life—but that variable is something you'll want to consider.
Connectivity
At some point, you will want to transfer your audio to another device, such as a laptop. Make sure the recorder you choose is compatible with the devices you'll store your files on. Most recorders can be connected to Windows or Mac devices. You will also want to know how they connect—USB, Bluetooth, etc.?
Direct Connect USB
Many newer recorders have a direct connect USB port, which is convenient. These connections allow you to connect the device to your laptop just like you would a USB thumb drive—no cables to connect and transfer your audio files.
Extra Features
These are the bells and whistles that may make the device easier (or sometimes more complicated) to use. They are usually not necessary but might be nice to have.
Reliability/Durability
Look for a device that is reliable and durable. It's not uncommon to drop a small recorder, so you want one that is made of durable materials and won't break the first time it hits the ground.
Final Words
How often do you think of a brilliant idea—or something that you need to tell someone—only to forget about it later that day? It happens to all of us. When we come up with great ideas, we are often busy doing something else; we don't have time to pull out our phones to type a note or record a message to ourselves.
That's where digital voice recorders come in handy. They are easy to use and allow you to quickly record your thoughts without having to fumble through your phone to find the correct app. You can save them for later without losing details, ensuring you have those fresh thoughts collected when you're ready to go through them.
There are many digital voice recording devices available on the market, and it can be hard to sort through all of them. We have listed some of the best ones above; we hope this will help you narrow your decision. When looking at each of them, make sure you consider the quality and features you need.
Good luck, and let us know if you find any other digital voice recorders that you like!