In the Information Age, privacy and security are essential. Strong passwords, internet firewalls, malware software, and VPNs are all excellent ways for us to protect ourselves. But don't just worry about computer hackers breaking into your computer from across the world. What about the person sitting right next to you?
How do you feel about the following scenarios?
You look at some photos of your kids on Facebook while commuting home on the train, and suddenly wonder how much the stranger sitting next to you can see.
You work on some business spreadsheets in a coffee shop and feel vulnerable when you realize how visible your monitor is to other patrons.
You finish a meeting with a client at your desk only to realize you've left a sensitive document open on your computer.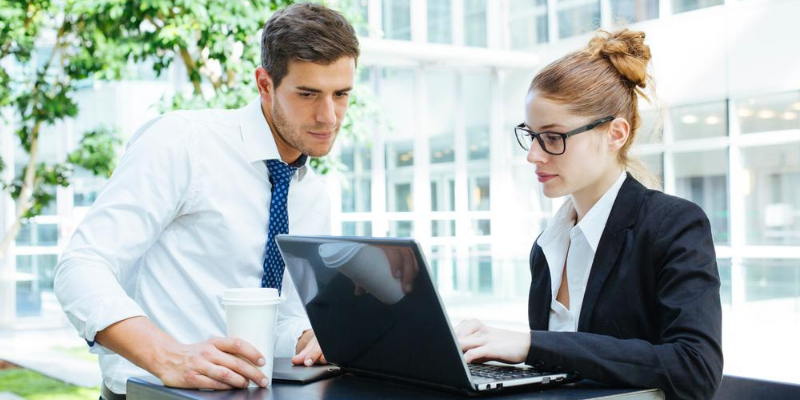 Those concerns are real, and so is the danger. How much information could an identity thief learn just by sitting next to you as you use your laptop? "Visual hacking" is easy, successful, and more common than you realize.
So how do you protect yourself? Your best protection is to place a privacy screen over your monitor. While sitting straight on, you won't notice any difference in the way you see the screen, but to those around you, it will just look black. Privacy screens also shield you from glare, protect your eyes from radiation from the screen, and may extend the life of your monitor by protecting it from scratches.
They work on desktop computers, laptops, tablets, and phones. They're relatively inexpensive and easy to install. Some are even magnetic. There is a wide range of products to fit monitors of just about every size, including 3M, Vintez, and Akamai.
In this guide, we'll introduce you to their range of products and more, and help you find the best privacy screen solution for your computers and devices.
Why Trust Me for This Buying Guide?
My name is Adrian Try, and I understand how vulnerable you can feel when using a computer in public. For years, I spent four hours each day commuting to work by train. I used that time to work, study, and do personal writing. Those seats were narrow, and the trains were full. Not only could the person sitting next to me see what I was doing, but they'd also sometimes ask me about it!
As a writer, I don't always work from my home office. It's nice to get out from time to time, and I enjoy getting some writing done in coffee shops, libraries, and parks. Once I'm focused on my work, I can forget where I am, even when people are bustling around.
If I was working on something sensitive, I'm incredibly aware of how easy it would be for others to see my screen. I probably wouldn't even realize when it happened. So I don't pay my bills or work on spreadsheets in public locations.
How We Picked The Best Privacy Screens
In this roundup, we're not looking for a single product to recommend. We're looking for reputable companies who make a wide range of privacy screens so that you're most likely to find one that fits your computer.
We searched for products and consulted industry reviews to come up with an initial list of thirty companies that produce privacy screens. We eliminated those who have a small range of products or only offer products for outdated computers. That left us with sixteen companies. Of these, 3M, Akamai, and Vintez offer the broadest range of products and have excellent reviews.
I don't want to just recommend these companies to you and leave you to do the detective work of whether they offer a screen for your computer. I want to help you find a real solution. So for each company, we provide a detailed list of all of their products with links to where you can purchase them.
Best Computer Privacy Screen: The Winners
Best Choice: 3M
3M offers the widest range of privacy filters available and are recommended by more reviewers than any other company. They offer framed and unframed screens in three series of products:
Black Privacy uses optical polarization so that the screen is readable through a 60-degree front view and appears black outside of that field of view.
High Clarity Privacy offers a crisp image while providing touch screen functionality.
Gold Privacy uses a glossy gold finish to increase clarity by 14% and reduce blue light transmission from the display by 35%.
Privacy screens are available for monitors and laptops, tablets, and phones, including a large number of device-specific products that assure a perfect fit.
Second Place: Vintez Technologies
Vintez Technologies is an excellent second option, offering quality privacy filters for most monitor sizes, some for specific devices, and a high-clarity Gold option for some products. They are specialists, and privacy screens are their sole business.
Vintez offers different screen filters for generic monitors, laptops, and Apple-specific or Microsoft-specific products.
Also Great: Akamai Products
Like 3M and Vintez, Akamai Products offers a wide range of quality privacy screens. They, too, have similar Black and Gold ranges and offer additional removable and magnetic mounting systems.
Below are some other options that are also worth considering.
Best Computer Privacy Screen: The Competition
1. Adaptix Solutions
Adaptix Solutions is another company specializing in privacy screens. Like other products, your monitor will appear clear within a 60-degree viewing angle; outside of that field of view, it will appear black. They offer a helpful sizing support page.
2. AirMat
AirMat privacy screens are made from eight layers that cut glare and blue light in addition to hiding your data from watching eyes. Their field of view is 60 degrees, similar to other companies' products, and they offer a premium Gold option for some sizes. Airmat provides helpful instructions on how to select and install privacy filters.
3. BesLif
BesLif has a relatively small range of products (especially when it comes to privacy screens for laptops). They make up for this in part by offering hanging screens that fit a range of desktop monitors.
4. Fellowes
Fellowes produces privacy screens in addition to other office-related products. They can be attached without adhesive, then removed easily, thanks to their Quick Reveal Tabs. Guides are available for finding your correct screen size and connecting the products.
5. Homy
Homy offers privacy screens for a wide range of devices, including tablets and phones. In fact, they manufacture products for some devices that even 3M doesn't, including Samsung phones. However, they don't offer products for desktop computers. They have tons of video tutorials on YouTube that cover features and installation.
6. KAEMPFER
KAEMPFER offers privacy screens for laptops only, including specific MacBook models. Various attachment designs are available, including adhesive and magnetic. Any adhesive is attached to the frame, not directly to the screen, so there is no bubbling and no residue. The magnetic models will prevent your laptop from fully closing, so they should be removed after use.
7. Kensington
Kensington is a well-known computer accessory company that offers quite a good range of privacy screens. An anti-reflective coating reduces glare, and harmful blue light is reduced by 30%. They have a viewing angle of 60 degrees, and magnetic and Snap2 attachment options are available.
8. SenseAGE
SenseAGE is a Taiwan-based manufacturer of computer and device accessories. They claim to offer clarity 15-23% better than their competitors. However, their range is more limited than other companies, and some users have reported being unable to remove the screen from their monitor.
9. SightPro
SightPro specializes in privacy screens. They offer matte or gloss screens and provide two attachment options. These cover desktop and laptop computers, but not tablets and phones. There are several guides for choosing the correct size: monitors, laptops, MacBooks.
10. Surf Secure
Surf Secure offers privacy screens for several specific Apple and Microsoft laptops and tablets. They attach quickly and seamlessly and don't leave a sticky residue. Surf Secure screens protect your privacy, reduce glare, filter out blue light from the display, and protect your screen from dust and scratches.
11. ViewSonic
ViewSonic offers a limited number of security screens with antiglare, anti-reflective surfaces, and a standard 60-degree viewing angle. They provide a helpful guide on their blog that covers how they work, how to select the right one, and how to install them.
Who Needs a Privacy Screen?
If you ever open your laptop, tablet, or phone in public, you'll be better off with a privacy screen. The same is true if you take meetings at your desk, or have strangers walking through your office—even if they're just contractors. If you make legally-binding confidentiality agreements with your clients, you can't afford not to use one!
A security screen will hinder others from seeing sensitive information on your screen. How real is the danger? 3M decided to find out.
A Study Exploring the Risk of Visual Hacking
3M sponsored The Global Visual Hacking Experiment, a study conducted by Ponemon Institute on visual hacking in the United States, followed by an expanded global experiment. You can read a 19-page PDF summary of the results here.
Here's a summary of their findings:
Visual hacking is easy and successful 91% of the time.
Visual hacking is quick, often requiring less than 15 minutes.
Multiple types of information are at risk—one "hacker" saw an average of five pieces of sensitive data each time during the test, including confidential financial, client, and employee information.
52% of the information successfully hacked was from employee computer screens.
Visual hacking is often unnoticed and went unchallenged about 70% of the time.
The study was able to identify several high-risk areas around the office:
Visitors and contractors walking through your office
Open office designs
Common areas like lunchrooms
Desks near glass walls
Outside of the office, where 59% of employees do some of their work
Working in public places presents the greatest risk:
87% of mobile workers have caught someone looking over their shoulder at their screen.
75% of mobile workers are concerned about visual hacking.
Despite the concern, 51% of mobile workers do nothing to protect themselves.
Only half of the mobile workers surveyed said they were familiar with solutions like privacy screens.
Given these findings, everyone should consider using a privacy screen on all of their devices!
Some Things to Keep In Mind
While privacy screens are helpful, they are not perfect:
They only blackout the screen's contents when viewing it from an angle, so those directly behind you may still be able to see the screen. The viewing angle is typically 60 degrees, leaving two 60 degree angles on each side where the display is not visible
They may affect the brightness and clarity of your screen. Usually, this is not significant. Some brands offer premium options that are even clearer.
They work best when screen brightness is low.
There are a variety of ways to attach them. Some cling to the screen; others use adhesive; some snap in place; others are magnetic. Some are attached permanently, and others are removable. Touch screens require a touch-sensitive privacy screen.
How to Choose the Correct Privacy Screen
Choose One That Fits Your Screen
The best privacy screen is the one that will fit your monitor. Providing a solution for every size is quite a challenge these days—some companies do much better than others. One of the goals of this review is to help you find one that will work on your devices, so we'll list a wide number of screen sizes, including links to where you can buy them.
You'll need to know the diagonal size of your screen in inches as well as its aspect ratio. Here are the aspect ratios included in this roundup:
Square 4:3
Standard 5:4
Widescreen 16:9
Widescreen 16:10
UltraWide 21:9
Before purchasing, you may also want to measure your screen's vertical and horizontal dimensions and compare that with your chosen product's description to make doubly-sure that it will fit. 3M provides a comprehensive measuring guide, as do other companies.
Some manufacturers make privacy screens for some specific laptop, tablet, and phone models, especially for Apple devices. Knowing the exact model (including the year it was made) will help you choose the correct product.
Choose One That Is Effective
You'll want a privacy screen that makes it easy for you to see what you're doing so that your work isn't hindered, and your eyes don't have to strain. Some manufacturers offer "high quality" versions of their monitors at a higher price. You also want one that protects you from the eyes of others and has the confidence of its users.
Decide On How You Will Attach It
Some privacy screens cling to the monitor, while others use a clear adhesive. Some have a physical mounting system that snaps into place or hangs from the top of the monitor. Others are magnetic for ease of attachment and removal.
Any other good privacy screen brands that we should include in this list? Leave a comment and let us know.