Canvas printing has become quite popular in recent years. Thanks to digital printing, they've become much more affordable and accessible to anyone who wants to spice up their walls with some eye-catching art.
This type of printing isn't just for photographs, either. If you are an artist or have some cool artwork someone made for you, you can simply scan it in and send it off to be printed.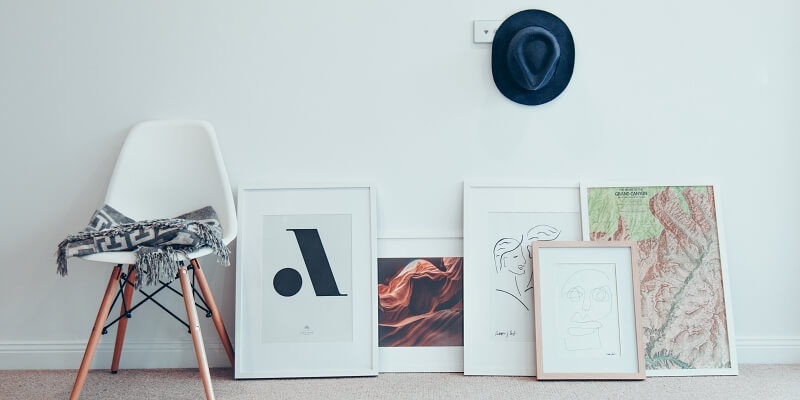 But there's a caveat: if you are going to spend the money, time, and effort to get a canvas print made, you want it done right. Why pay money for an inferior print? In addition, while these services are convenient, they're not cheap.
So, let's take a look at the best canvas printing services available—and discover how your money can be best invested in a canvas print.
If you're looking for the highest quality in every area and outstanding customer service, our top pick, CanvasHQ, should be your first stop. In my opinion, they produce the best prints available, and their customer service is terrific. Their prices are reasonable; you'll save money on shipping costs as well. Some services are cheaper, but there are also lots of coupons and deals available. In my opinion, the level of quality you get from them makes it worth coupon-hunting.
But they're not the only printers out there. CanvasPop is one of the most popular canvas printing services on the web. They have a reputation for excellent customer service, make beautiful products, provide tons of options, and even create prints in custom sizes. Yes, they're also pricey—but like most of the companies we discuss in this article, a quick Google search will net you some online deals or coupons that'll save you money.
If you need a low-cost alternative, Walmart might be the way to go. To my surprise, they have highly capable photo services, with a wide variety of selections, at affordable prices. Your canvas printer of choice might be just down the street at your local Walmart.
Why Trust Me for This Guide
Hi, my name is Eric. While I spend most of my time in the tech world as an engineer and writer, I am also a long-time lover of art. I have been to art museums around the world; seeing art on canvas is something I love and appreciate. My son is also an up-and-coming artist who specializes in portraits, so my house is filled with canvas paintings.
We've found that when he's created a gorgeous piece of art and wants to share it with others, it's easy to take a picture of it and then have a replica made on canvas. It helps the print stand out, gives the same look like the original, and provides an "official artist" quality to the work.
I began my writing career with a blog about art, as well. All that means I have a lengthy background with this medium. I have built a few canvases over the years and have even been known to pick up a paintbrush every once in a while.
How Do Canvas Printing Services Work?
So how do you get a canvas print made? While it's simple, it's not often fast. Since the materials used can be expensive, and the process can be time-consuming, the best canvas printing services do not rush their product. Quality is key.
There are some basic steps that you and the printer must go through to ensure you're a satisfied customer. The following is an outline of how the process works.
Step 1: Upload your photo.
The first step is to go to their website and upload your image. Each site will usually have a button or menu selection to "Get Started" or "Create" your canvas. Have your image file ready.
When you get to the upload area, there should be an upload button or a drag-and-drop area to add your image. Once you have added it, you'll go through a ton of options such as canvas size, edge and frame types, filters, and other add-ons. Some of these cost more money, so be aware of that as you select them.
Step 2: The software verifies resolution and image quality.
Most of the better services examine the resolution and quality of your image after you upload it. The site will check to make sure your image is large enough for the canvas size and other options you selected. If your image does not pass the verification, you may need to scan the photo at a higher resolution. The site should advise you on how to do this; you may even be able to talk to a customer service agent if you need more help.
Step 3: Personal verification.
Some, but not all, services will have a technician look at everything and verify that your print will work. If they foresee any issues, they will contact you and try to help you resolve any problems.
Step 4: Create/review proofs.
Another common step that most places offer is free proofs. They will email you a copy of what the final product will look like, often in a day or two. If you do not like them, you can work with a technician to adjust and modify it before printing.
Step 5: The canvas is printed.
Once everything has been ordered and agreed upon, printing can begin. Most shops print on canvas using a special printer and ink that resists fading.
Step 6: The canvas is hand-stretched onto the frame.
If you have selected a wooden frame (most shops require this, but there are a few that will just send you a rolled-up canvas if you want), a technician will stretch the canvas by hand over the frame, fold the edges, and attach it to the frame with staples. Stretching can be a difficult process; if it's not done by a professional, it won't look right.
Step 7: Quality check.
The product will go through a quality check to ensure that it is ready to be delivered.
Step 8: Shipping.
Once it is ready, it gets packed and shipped. Canvas prints can be a bit fragile, so they should be protected and packed well
Who Should Get Canvas Prints?
Why use canvas printing services? What's wrong with printing on regular photo paper and displaying photos and artwork in traditional frames? Well, to be honest, nothing—it's just that canvas can give pictures or other artwork a sophisticated, museum-piece look. When you see them, you see the difference.
Canvas prints look fantastic in almost any setting—living room, dining room, bedroom, or office. It is common to see them in office settings such as waiting rooms, meeting rooms, hallways, or on the walls of many retail stores. The raised border frames and texture of the canvas give a 3D effect to the artwork.
If you're not into art or your walls are already filled with family pictures, or prefer traditional photos and frames, canvas printing may not be something you are interested in. These prints do make thoughtful gifts, though, so they still might be something to consider. If you are unsure whether you want a canvas, you can always try one out and see what they look like: most companies run specials or have coupons, so you may find a great deal if you poke around a little.
Best Canvas Printing Services: The Winners
Top Pick: Canvas HQ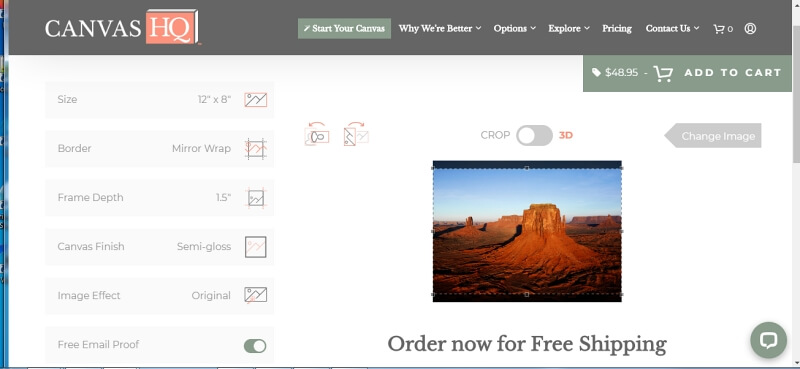 After evaluating many services, Canvas HQ has demonstrated that they have what it takes to be our top pick. They perform the best in all categories. If you are looking for a printing service that will give you a top-of-the-line product, we believe they are the way to go. Here are some of the features that make CanvasHQ the best.
Their simple, straightforward website makes online ordering a breeze.
They offer multiple sizes to choose from, including custom sizing.
The order interface shows you which sizes will work best with your image.
The site allows you to select border type, frame thickness, finish, and different image effects.
Free image proofs and touch-ups are available.
Shipping is free on most orders.
Image quality is incredible.
100% Guaranteed
All canvases and frames are assembled by hand.
They use commercial-grade inks made for outdoor use that are moisture-resistant and don't fade. They can even be cleaned by wiping with a damp cloth.
They use archival-certified canvas, the best you can get.
Prints include handcrafted frames made from kiln-dried pine, with cross-bracing to ensure strength.
Hanging hardware is included with your prints.
Premium packaging ensures your art will arrive undamaged.
They're family-owned with superior customer service.
As you can see, Canvas HQ scores high in every area. CanvasHQ uses only high-grade materials throughout the process of crafting your canvas. Not only are the materials solid, but their method is also clearly defined and quality-focused. You can take a look at the details here. The fact that they provide such information on how their products are produced gives a real sense of security in using them for your prints.
Their attention to detail, materials, and customer service results in a superb product. The prints look exceptional. If you are not 100% satisfied with them, they will work with you to make it right, even if that means refunding your money. From your initial image upload to looking at the print on your wall, Canvas HQ does it right. That's what makes them our top pick.
Most Popular: CanvasPop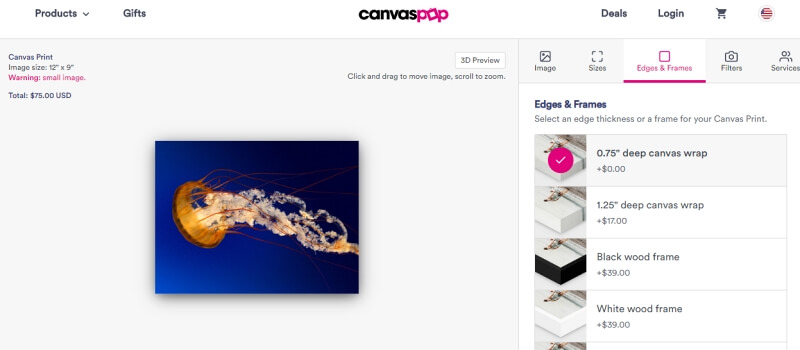 CanvasPop is the most popular canvas printing service around. You will find it at the top of most canvas printing reviews. You might see ads for it in places like Facebook and Instagram, and you're bound to find it if you do an internet search.
Does being popular make it the best? If that many people are willing to use it, they must be doing something right—right? Or are they just good at advertising? Based on our evaluation, they're not "all talk and no game." CanvasPop is a phenomenal canvas printer and worthy of your consideration. Let's take a closer look and see what they have to offer.
Any image, any size, any resolution
Custom sizes
Upload from your computer, Facebook, or Instagram
"Easy as 1-2-3" – quote from the CanvasPop Website
Free proofs reviewed by a real person are available
Every canvas is hand-stretched onto the frame
Each frame contains a sticker with the name of the technician who stretched and attached the frame, giving it a personal touch.
Multiple frame types and thicknesses available
Black, White, and photo wrap edges at no extra charge
Multiple filters and effects
Touch-up, enhancement, and makeover services available
Customer service via phone, email, or chat
It's easy to see why CanvasPop is so popular. They have most of the features that we were looking for in a printing service.
A quick caveat: I like that they say they are willing to print any image, any size, and any resolution—but it also worries me a little. A low-resolution image may look terrible on a large canvas. Based on their reputation, though, I believe that they would not proceed with a poor print unless the customer confirms that it is what they really want.
I did run into a few customer reviews that stated the color of the print was a little washed out and not quite as sharp as they would like it to be. I have also seen some complaints that the shipping lacked enough packing to protect the print well, but thankfully no damage was done. That said, the majority of reviews are positive. The overall quality of their prints is good, and their customer service is well-reviewed.
Low-cost Alternative: Walmart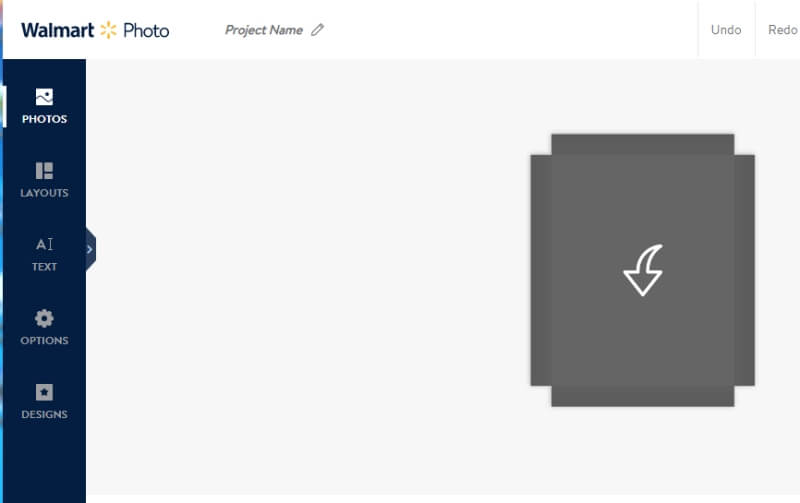 You might be surprised to see Walmart on our list, but believe it or not, they have trustworthy photo services that are low-cost—not to mention top-notch compared to many others.
Great value at low prices
Vast selection of canvas sizes
Easy to use image upload interface
Multiple frame types to choose from
Many collage and design templates to choose from
Add text to your photos
Low-resolution detection will warn you if your image will look pixelated on canvas
Support available by chat
Quick turnaround times
When I set out to review canvas printing services, Walmart wasn't one of the first to come to mind, but as a budget pick, they produce some classy-looking pieces of art. Sure, they are not going to be on the same tier as the other top choices in terms of quality, but if you're new to canvas art and want to try it out, Wal-Mart isn't a bad place to start. If you are looking for a low-cost way to get some art on a wall, Wal-Mart will be quick, dependable, and consistent in quality.
As a canvas printer, they provide a broad selection of sizes and options. They have templates if you want to create a collage or put multiple pictures on one print. You can even add text to your image if you so desire.
One great feature of Walmart that is often overlooked is convenience. They have stores everywhere; if there's one close to you, it's easy to pick up and avoid shipping costs. You can still have the final product shipped to your house, though, if that is what you prefer.
Overall, Walmart provides an excellent canvas printing service. Customer service will vary depending on who you work with and your local store, but they are definitely worth using. The quality, value, and convenience they provide make them our top choice for a low-cost alternative.
Best Canvas Printing Services: The Competition
The three services we have picked above are clear winners in their categories, but there is undoubtedly a lot of competition. Many provide the same services with differences in quality, price, materials, and customer service. Let's take a look at a few competitors that might be worth your attention.
1. Paint Your Life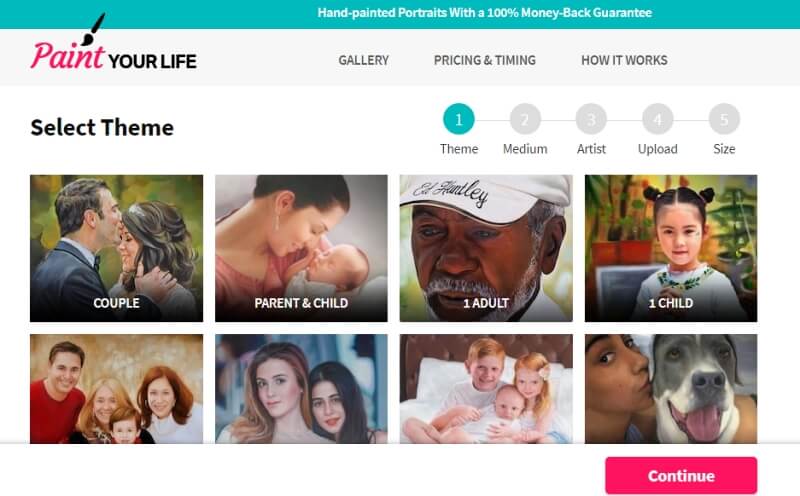 This one really stands out from the crowd. Paint Your Life specializes in portraits, like many canvas printers. But what makes them unique is that they have artists who actually hand-paint portrait photos onto canvas. We're not talking cool Instagram effects or even high-end Photoshop work: you hire your own personal Hans Holbein to transform your photos into true works of art.
All art is 100% hand-painted by real live artists
Select any artist you want
Unlimited revisions
Free proofs
Select from multiple styles
Free shipping
100% satisfaction guarantee
Wonderful customer service
The only drawback to this service that I can see is that you won't get an exact duplicate of your photo—but that's the point. It will be an artist's rendering—but who wouldn't want that?
Paint Your Life is a little different than the typical canvas printing service. Really, it's in a different category of canvas printers than the others listed in this roundup. We had to include it in this article, though: there is an allure to obtaining custom art painted by an expert artist. The artwork is available in oil, charcoal, watercolor, pencil, and acrylic. Each has a different look and aesthetic. Take a look here if you want to find out more about how it works.
2. CanvasChamp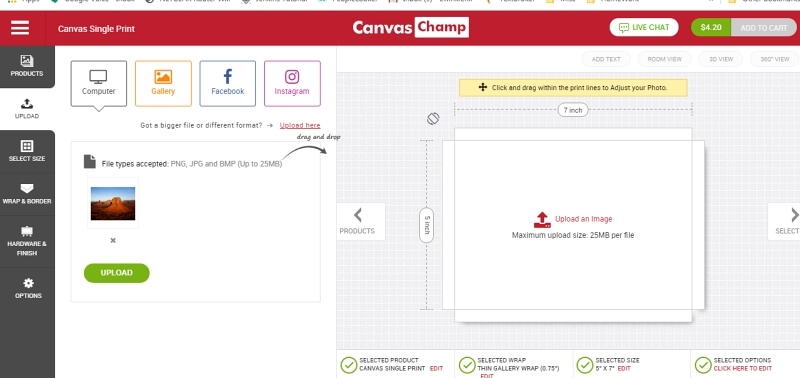 In terms of overall service and price, CanvasChamp is one printer you might take a look at. It's also a real competitor in all three of our categories: you get terrific canvas printing at low prices, as well as the services our winners provide. It barely didn't make one of our top three canvas printers. If one of the options above doesn't work, these guys are worth checking out.
Remarkably low prices, especially with their 93% discount
Easy-to-use photo upload interface
Canvases as small as 5 x 7 inches
Custom sizes available
Bulk ordering available
Lots of options, including touch-up services
You can have your artwork laminated to provide extra protection.
CanvasChamp has a lot to offer. First, I will admit that their prices are hard to believe. 93% off of everything seems like a lot. They also print on other mediums such as wood, metal, and acrylic, so you don't have to stick with canvas. They also print on other items like mugs, pillows, calendars, and more.
Overall, they seem to provide reliable prints. Still, one of the knocks I have against them is that their materials are not as impeccable as many of the other services, especially CanvasHQ. They use a canvas blend which is not as durable and does not have as nice of a texture. Budget-priced materials are what allow them to produce products at such a discount. If you are okay with that, you may still want to consider using them.
3. Walgreens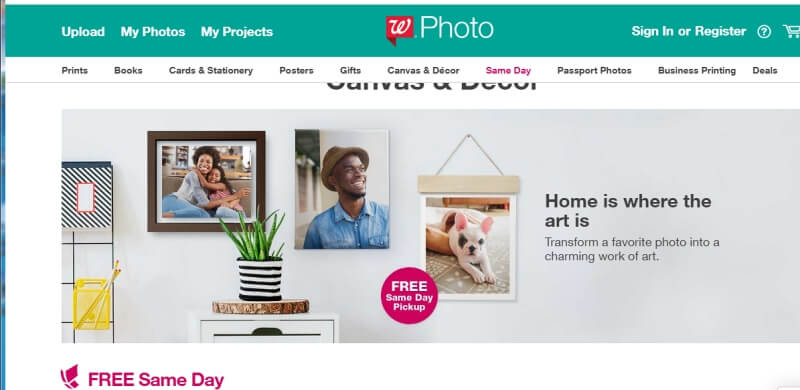 Walgreens has been doing photo processing—and doing it well—forever. I remember using them to have our old Kodak camera film developed back in the 70s and 80s. They have always done a fine job with photo processing, and their canvas services are equally good.
Like Walmart, they are convenient: you can pick up your print in-store or have it shipped to you. The prices are reasonable, though somewhat higher than Walmart's.
Easy to use website for uploading and customization
Warning for low-resolution images
Free same-day service and pickup
Multiple sizes and frames available
Free hanging hardware
In-store pickup and delivery
Many templates and backgrounds available
Add text to your print
Walgreens has plenty to offer, and they produce well-made prints. Sure, they don't match the high-caliber of our top performers, but they are still better than many alternatives. If you are looking to quickly get some art on the wall for a reasonable price, Walgreens is a good option. With many store locations, same-day in-store pickup is available.
Keep in mind that same-day does not always equate to getting your print that day. They usually need a 24-hour window to get the order completed—still quicker than any other service. One drawback to this prompt turnaround service is that you lose the personal touch, materials, and craftsmanship that other printers may provide. But, depending on what you are looking for and how you are going to use them, this may be the printer for you.
Other Services to Consider
We've just scratched the surface of the wide world of canvas printing services. While we can't go over every one of them, I want to mention a couple more.
Both Shutterfly and Snapfish have been a presence in online photo printing for quite a while now. Both of them also do canvas printing and make reliable products supported by capable customer service.
Like Walmart and Walgreens, these two services do not specialize in canvas printing, so you probably won't get the kind of five-star materials and handcrafted work that you will from the others. They are experts at printing photos, though, so they are worth taking a look at if you have a chance.
How We Evaluate Canvas Printing Services
To come up with our top picks for canvas printing, we looked at many printing services. The quality and ease-of-use of the website, combined with a few other important areas like cost and customer service reputation, were used to make our decision. Let's take a look at the features we considered while evaluating each of them.
Ordering Interface
One of the first experiences you will have with any printer will be their website. How easy is it to upload, prepare, and order your image? A well-designed interface makes the process easy and intuitive; it also gives you a palpable idea of what your final product will look like.
Hopefully, the service's software will also detect if your image quality is high enough for the size you select. It should also allow you to add other services and let you know the cost along the way.
Cost
The cost of the canvas printing service is an important factor—but it's not defining. There are expensive printers, and there are cheap ones. Some budget-priced printers do a terrific job, but there are also costlier choices that don't make acceptable prints. In general, though, you get what you pay for. We can't say this enough: if possible, try to find discounts and coupons, try out a service, and make sure it offers the level of quality you're looking for.
Sizes Available
Some images come in odd sizes—a one-size-fits-all printing option might not do. Some services offer custom sizes, which you'll need in that case—but keep in mind that you may pay more for them. Additional considerations are frame size and thickness. Most canvas printers offer a variety of both.
Services/Proofs Available
Be sure to take a look at what other services the printer has available. Most offer free proofs so you can verify and accept what the final product may look like. Although this is usually free, it's often optional. Don't forget to get a proof: it's essential to get an idea of what your final print will look like!
Other services may also be available such as personal consultation, touch up service, filters, and more. Some of these may add to your print cost, so select them carefully when you order.
Personal Touch
What kind of personal touch does the service offer? Do they have someone who personally looks at your image to ensure you'll get your desired results? Do they have a consultant available to give you advice and help with your order?
One of the more important things is that they have a technician hand stretch the canvas on to the frame and attach it. Doing this manually—without a machine—ensures that it is fit properly, with no wrinkles and unsightly folds on the edges or back. Also, is there some kind of QA (quality assurance) process where a human inspects the final product before it's shipped?
Shipping
Don't overlook the packing and shipping process. This type of art can be fragile. If not packed and shipped correctly, you may end up with a damaged frame or canvas. It seems pretty obvious to me that proper shipping would be a big deal, but I have seen some companies just dump the picture in a box wrapped in one layer of plastic. That may be fine as long as the shipping company doesn't throw it around or set heavy boxes on top of it, but it can still be vulnerable to damage in transit.
Quality of Print/Framing
Quality is probably the most critical consideration for your print. What does the final product look like? Is the image acceptable? How does it look close up compared to from a distance? You want your colors to look the same as they did on your original—not washed out, pixelated, or blurry.
The frame is also essential. A cheap, flimsy wood frame may not hold up; it could warp over time. The best frames have extra support to make them stronger. A weak or warped one may produce looseness or sag in the canvas. You also want to ensure the art is correctly attached to the frame. It should be tight. The edges should be smooth and lay flat so that it can be hung flush against a wall.
Customer Support
If you have any issues, it is nice to know that there is dependable customer support and that you can contact a real live person to discuss your problems. Many of these services give satisfaction guarantees—so if you are unhappy with your product, they will make it right.
Final Words
As we have seen, there are many things to consider when trying to find a canvas printing service. Quality and customer service are two of the first factors you should look at. Your taste, and how you are going to use the prints, may determine the other metrics most important to you. We hope this overview has given you an idea of what to look for and provided the best canvas printers available.
As always, please let us know if you have any questions or comments. We would love to hear from you.