Love or hate Audacity, it has been a mainstay in the audio software world thanks to its price (free!) and a fairly robust set of features. But are there any alternatives?
For some Audacity alternatives for Windows and Mac, we'll look at six possibilities: Sound Forge Audio Studio, Wavosaur, REAPER, Ocenaudio, Adobe Audition, and GarageBand.
Hi, I'm Andrew, and I've been using Audacity for over a decade to record and edit audio. Each of these Audacity alternatives has its own strengths and weaknesses, so ultimately which software you choose depends on which features you value the most.
In this article, we'll survey these six applications, and I'll answer some frequently asked questions at the end.
Let's dive in.
1. Sound Forge Audio Studio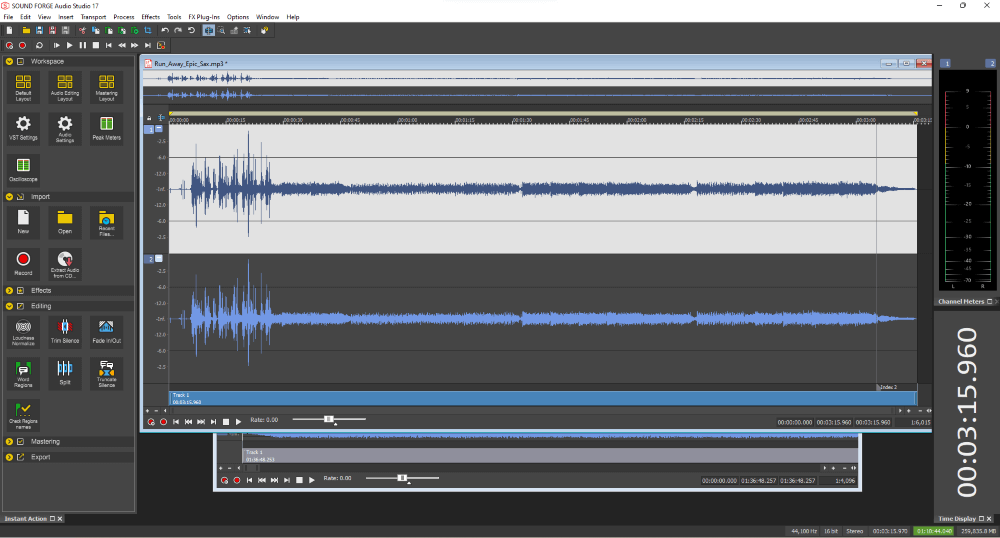 Best for: Editors who want a prettier UI and a nice complement of sound effects.
Cost: $59.99 or $2.99 per month. 30-day free trial available.
Supported Platforms: Windows.
Where to get it: magix.com.
Once owned by Sony, the German audio-video software company Magix purchased Sound Forge in 2016. Following the purchase, Magix split Sound Forge into two product lines–Sound Forge Audio Studio and Sound Forge Pro.
Sound Forge Audio Studio has fewer features than its pro sibling, but the software is much less expensive–$59.99 vs. $399–and is more similar in capability to Audacity.
The software is easy to install and get up and running. Audio Studio provides several preset audio edit options called Instant Action for accomplishing tasks like:
Trim Silence
Normalize
Fade In/Out
All the basics you need are there in Sound Forge Audio Studio for capturing, editing, and mastering your audio, all wrapped in a user interface that is a bit more pleasing to the eye than Audacity's layout.
Nevertheless, the software is not without limitations or quirks. First, Magix recently phased out the Sound Forge product from macOS, meaning the software is only available for Windows. The bigger limitation is the inability to edit multiple tracks on the same timeline.
You can record and manipulate multi-channel audio, but you're out of luck if you want to edit more than one track at a time.
2. Wavosaur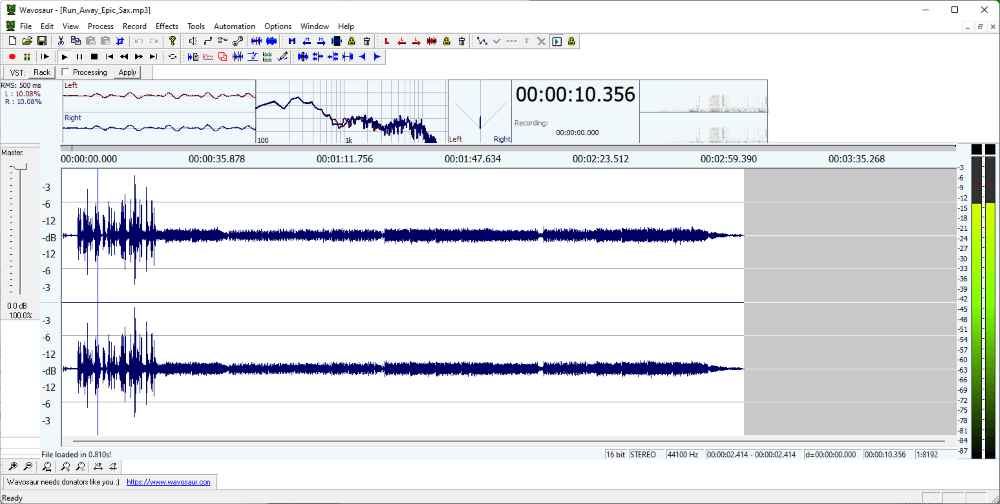 Best for: Those who want a free alternative to Audacity.
Cost: Free.
Supported Platforms: Windows.
Where to get it: wavosaur.com.
Wavosaur is a free audio editing and recording software for the Windows platform brought to you by developers from France. Compared to Audacity, though, the code is not open source, and Wavosaur has not been updated since version 1.7 was released in 2020.
So why include Wavosaur on this list of Audacity alternatives?
There are a few reasons to consider Wavosaur despite its age. Did I mention it's free? The price is one of Audacity's greatest perks, so if you're looking for an alternative, Wavosaur might be what you want.
The developers have never officially declared the project dead, so one can hold out hope the software will be updated one day.
Aside from the price, a couple of things make Wavosaur stand out. First is the software's ability to use Virtual Studio Technology (VST) plug-ins–Audacity can handle VSTs too, but it's a nice feature in a free software package.
Next, unlike Audacity, the software has no installer. Simply download Wavosaur's executable and run the file to begin manipulating audio. Combine these features with some nifty visualization tools like the oscilloscope and sonogram, and you have a pretty cool alternative to Audacity.
Unfortunately, the software is limited to one track per timeline, but you can edit multiple tracks and mix them down to one if you prefer. Additionally, although not too difficult to use, Wavosaur isn't the most intuitive audio software I have used.
3. REAPER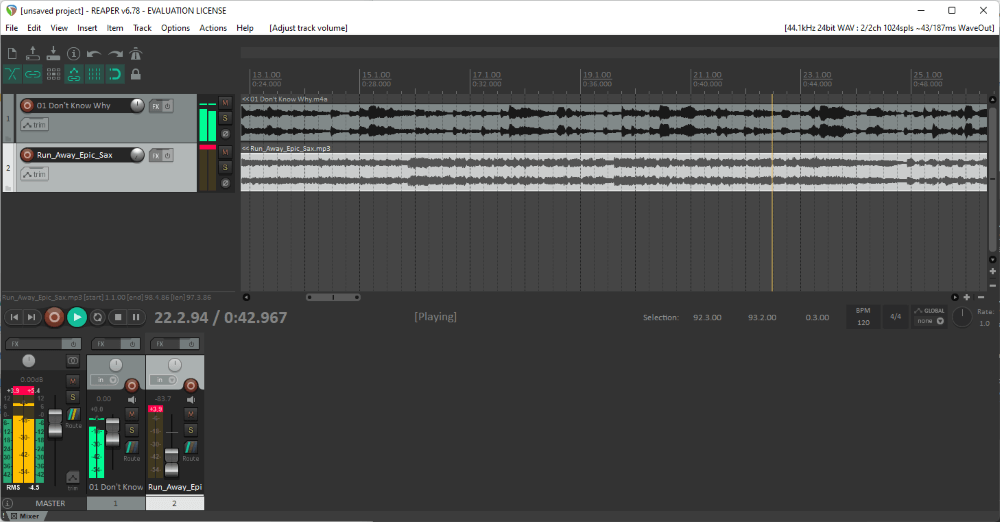 Best for: Users who want a more full-fledged Digital Audio Workstation (DAW) without breaking the bank.
Cost: $60 for a personal license, $225 for a commercial license. 60-day free trial available.
Supported Platforms: Windows, macOS, and Linux.
Where to get it: reaper.fm.
For the price, REAPER by Cockos, Inc. is an impressive piece of software.
Justin Frankel, famous for creating the Winamp media player software, founded Cockos a few years after selling Winamp to America Online. At Cockos, Frankel and his team built a full-blown DAW called REAPER.
REAPER is an acronym for Rapid Environment for Audio Production, Engineering, and Recording. The name attests to the software's bent toward lightweight and speedy design. As DAWs go, REAPER is super responsive and even boasts a portable version you can run from a flash drive.
REAPER can handle multiple tracks, supports MIDI recording, VST, and many other plugins, and read and export to just about any audio format you can imagine.
The interface is intuitive and fully customizable–a nod, perhaps, to Frankel's Winamp application.
REAPER can do everything Audacity can and much more for only $60 (for personal use), and Cockos offers a generous full-featured 60-day trial for you to test out the software.
4. Ocenaudio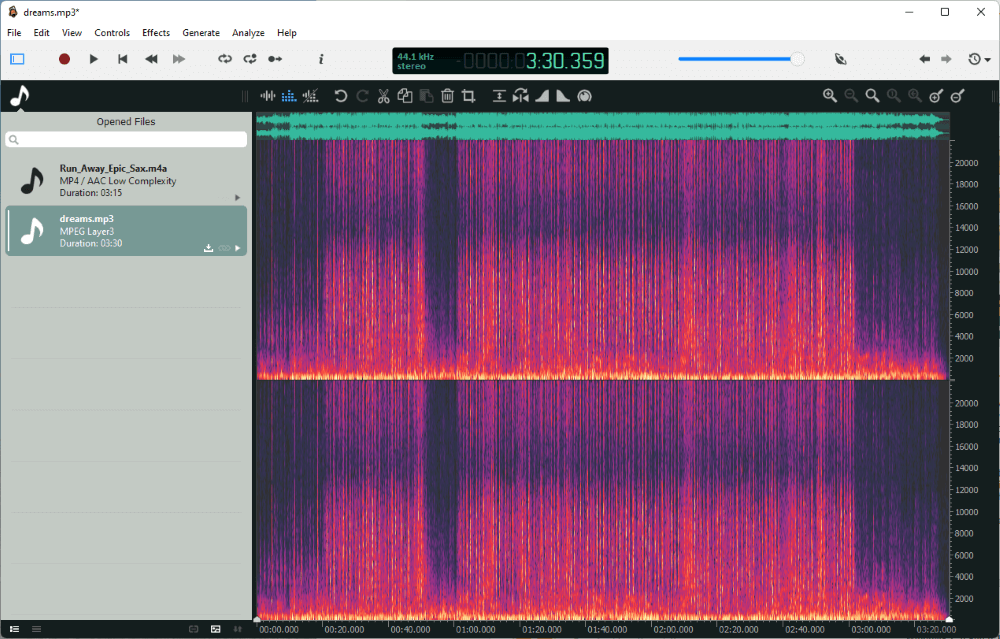 Best for: Editors who want free and easy-to-use software.
Cost: Free.
Supported Platforms: Windows, macOS, and Linux.
Where to get it: ocenaudio.com.
Ocenaudio is a quality-free alternative to Audacity.
Aside from the price, its easy-to-use and attractive interface is probably the software's best feature. With VST support, you can extend the software's capability to supply additional effects for your audio.
Oceanaudio emphasizes the ability to analyze your sound. The software features a spectrogram that updates in real-time as you apply changes, so "you can analyze the spectral content of your audio signal with maximum clarity."
Additionally, Ocenaudio offers live, fast Fourier transform (FFT) analysis of your waveform for those who want to geek out.
These nerdier features should come as no shock since researchers at the Federal University of Santa Catarina first developed Ocenaudio. Audiophiles will enjoy these nods to the science of sound.
Ocenaudio's most significant limitation is its inability to manipulate multiple tracks on the same timeline. You can import various audio files, edit them separately, and then mix them into one, but this approach is less convenient and less advanced than what you'll find in Audacity.
Nevertheless, if you're looking for an easy-to-use, attractive, and cross-platform application, you'll be hard-pressed to find a better option.
5. Adobe Audition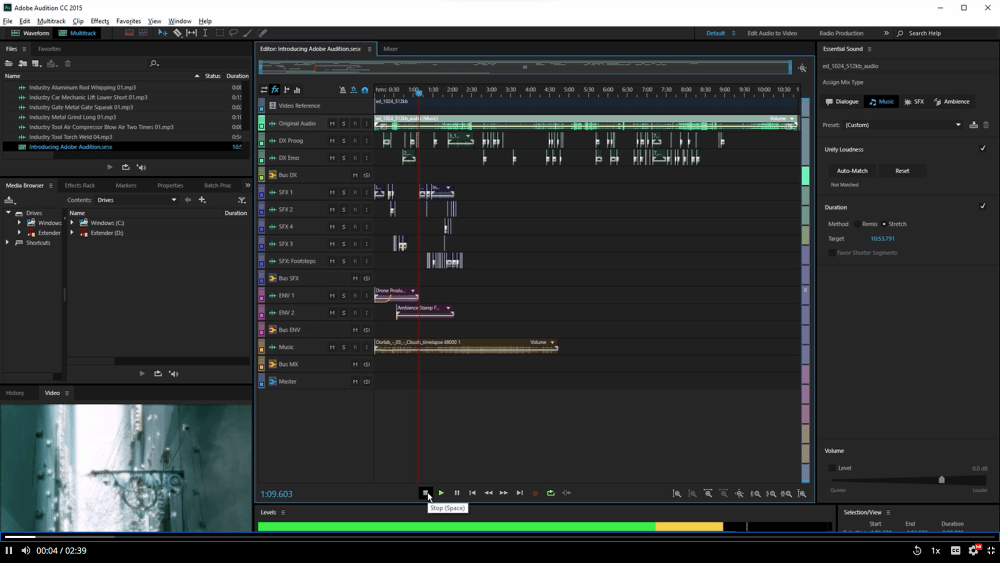 Best for: Existing Creative Cloud users or those who don't mind a steep learning curve and have deep pockets.
Cost: $20.99 per month, 7-day trial available.
Supported Platforms: Windows and macOS.
Where to get it: adobe.com.
If you need something more robust than Audacity, Adobe Audition might be what you're looking for. Adobe has long been the standard in professional audio-video and graphical manipulation, so it follows that its "professional audio workstation" software would be pretty darn good.
Audition is packed with features–so many, in fact, that newbies to the Creative Cloud environment might struggle at first to learn the software.
One of the software's best features is its ability to manipulate audio from a video. Audition features a video preview screen so you can see how your audio lines up with the picture in real-time.
You can also record, batch process sound effects, and implement plugins to enhance your audio. Another good feature is that, unlike other software, Audition's editing is non-destructive of the source files.
If you're looking for something simpler, easier, or cheaper than Audacity, Audition isn't for you. But if you want professional-grade software that can handle video and plays well with other Adobe products, then Audition is a no-brainer.
6. GarageBand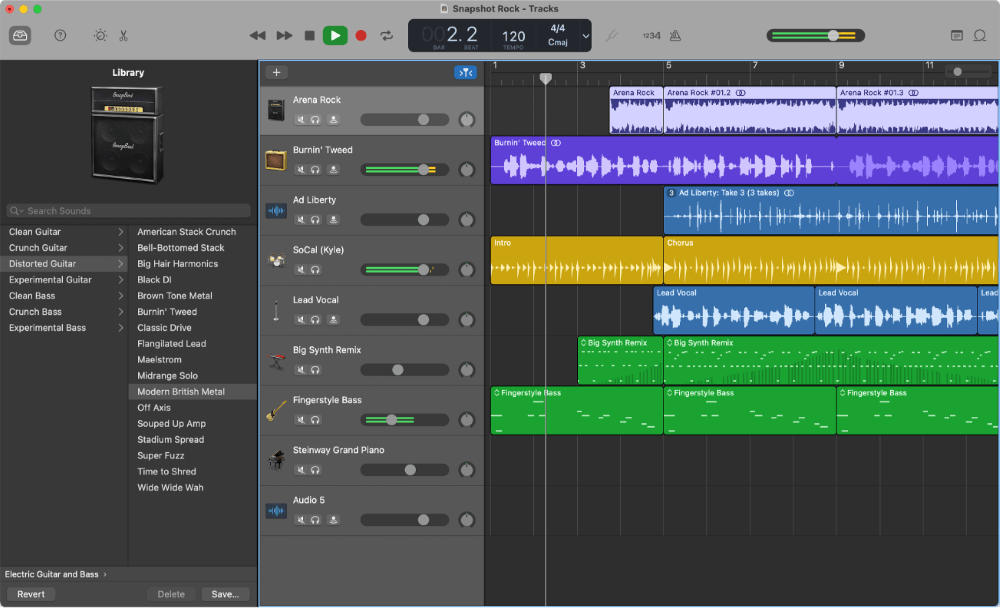 Best for: Macintosh users who don't need a professional-grade DAW.
Cost: Free with the purchase of a Mac, iPad, or iPhone.
Supported Platforms: macOS, iPadOS, and iOS.
Where to get it: Comes preloaded on Macs, re-download from the Mac App Store or iOS App Store.
GarageBand is Apple's light version of its DAW called Logic Pro, but it might be all you need. Since the software is now free to all Mac and iOS users, it's worth investigating to see if it will meet your needs.
GarageBand has the tools to record, edit, mix, and share your projects with others. The app supports third-party Audio Unit (AU) plugins, greatly expanding your capability to add unique effects. And, since GarageBand is cross-platform with iOS, you can even open and manipulate projects on your iPad or iPhone.
The app also has built-in music lessons to help you learn guitar or piano–a cool feature that sets the app apart. Despite the name GarageBand, the software is also well-suited for recording and producing podcasts.
And, of course, the software features Apple's trademark sleek and intuitive design. If you've been immersed in the Apple ecosystem for a while, you'll probably feel right at home in GarageBand.
FAQs
Here are some other questions regarding Audacity alternatives for Windows and Mac.
What is the Mac equivalent of Audacity?
Audacity has a macOS client, but if you're looking for an alternative for macOS, I would start with GarageBand since the app is free for Mac users.
Is Audacity cross-platform?
Yes, Audacity is available on Windows, macOS, and Linux.
Is there any other software like Audacity?
Yes, many other applications can capture, edit, and mix audio. What's excellent about Audacity is that it is free and open source, cross-platform, and relatively robust for a free app.
You'll be hard-pressed to find another piece of software with this combination of traits, but Ocenaudio or REAPER are probably the closest approximations.
Conclusion: Which Audacity Features Do You Value Most?
Finding suitable Audacity alternatives for Windows or Mac boils down to which features you value most. Do you need something simpler and free? Go with Ocenaudio. Need more features and don't mind paying a little? REAPER might be your best bet.
Ultimately, choosing audio recording and editing software is very much a matter of personal preference. The good news is you have many options to choose from, so explore them to find which Audacity alternative works best for you.
What about you? Do you have a favorite Audacity alternative? Let us know in the comments!