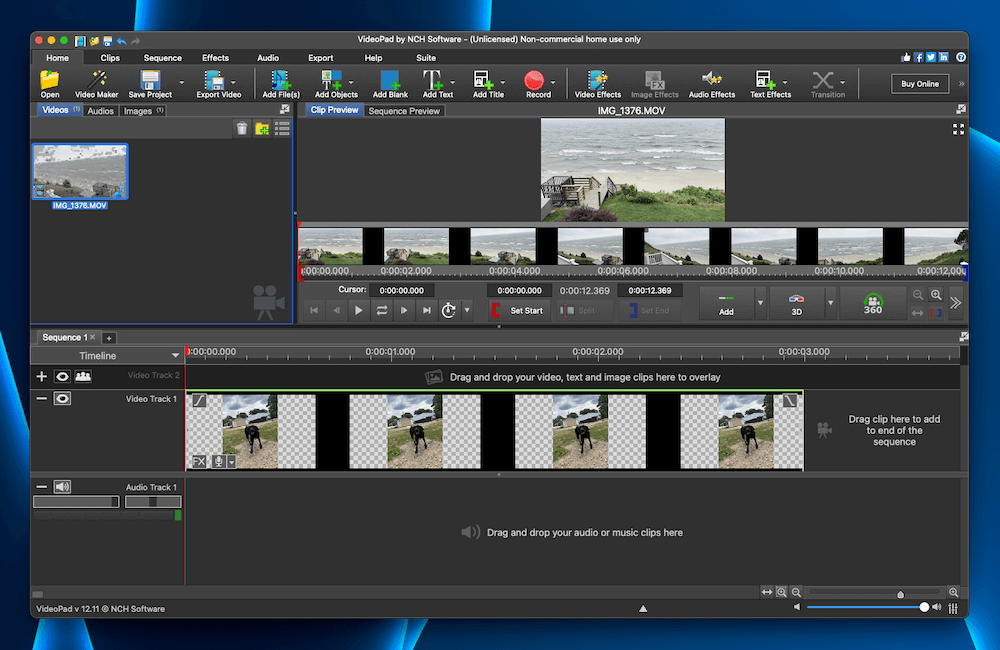 VideoPad
Features: Boasts nearly all of the features you might expect in video editing software
Pricing: You can use limited features VideoPad for free or pay $80 for the Home Edition or $139 for the Master's Edition
Ease of Use: The layout is clean and user-friendly, so it's a great choice for beginners
Support: Detailed support pages offer ample resources for customers to find the answers they seek
Summary
VideoPad is a video editing software from NCH Software that offers an impressive array of features packed into a slightly outdated package. It can do everything most of its competitors can, but unlike them, comes free for home use. It's an excellent option for beginners learning the ropes of video editing or those on a budget. However, it isn't ideal for videographers who want industry-leading, high-tech video editing technology.

What I Like: This software comes at an unbeatable price for home use yet offers many of the same features as its paid competitors.

What I Don't Like: The feature list isn't as extensive as some cutting-edge competitors, and the site and tool are somewhat outdated.
It is a simple video editing program developed by NCH Software, a software development company founded in 1993 in Canberra, Australia. The program is geared towards the home and professional market.
VideoPad is free for home use with limited features, but to unlock all the features, you'll need to pay for a license ($80 for the Home Edition and $139 for the Master's Edition).
Yes, VideoPad software is safe to use. After downloading it to my MacBook Pro, I scanned it for viruses, and the report came up clean.
Why Trust Me for This Review
My name is Jonathon Jachura, I'm a tech enthusiast and experienced software tester. I've been using various video editors for close to a decade. This has given me a lot of experience and knowledge about the different features and capabilities of video editing software.
I know exactly what to look for and how to stress test video editors. And I don't hesitate to point out any bugs, weaknesses, etc., that I find. I find and explain the pros and cons so you don't have to.
VideoPad comes with all the basic tools and features you should expect from a video editing software. These include visual effects, optimizations, adding/configuring audio, creating transitions, and more. But some of the features are antiquated and it lacks some features you'll find in enterprise-level video editors like AI tools, VFX, etc. 
Side Note: You can watch this demo video made by my teammate Aleco, using VideoPad.
Detailed Review of VideoPad
VideoPad is a video editing software designed to help folks create beautiful, polished videos that showcase their videography and editing skills. The software has everything you might expect from a software of its kind but is somewhat outdated.
Here are a few key features of the VideoPad software, along with my personal take on each feature.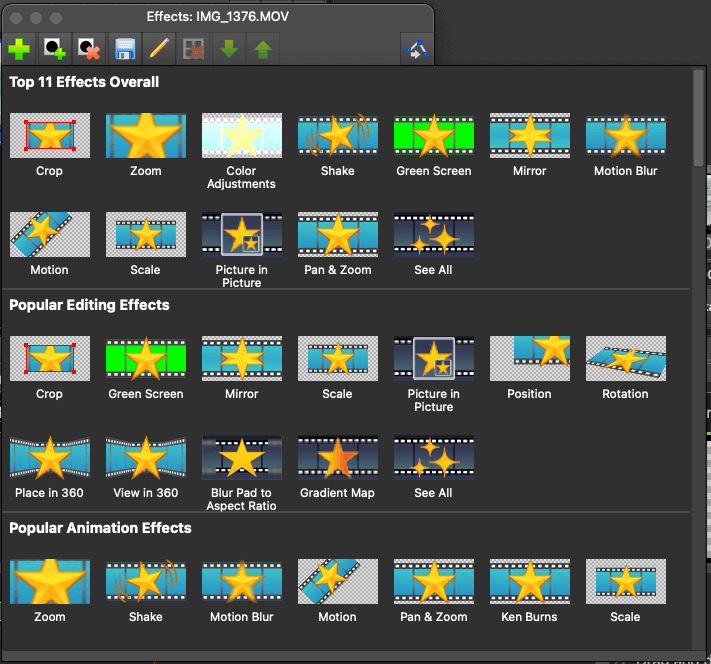 Visual Effects
VideoPad offers various templates to help users create title text animations that reflect the narration or lyrics in the video. You can customize the text, font size, and color to match the contents of your video and create a more cohesive result.
Add logos and custom watermarks to display your brand or work using the built-in tools, or use the professional template options to create high-end intros, outros, and titles. All it takes is a few clicks to develop a more polished result.
My personal take: Adding a sprinkle of visual effects can make a significant impact on your final video, making it more polished and professional. This software has various built-in effects designed to help you achieve that result.
Optimize Your Video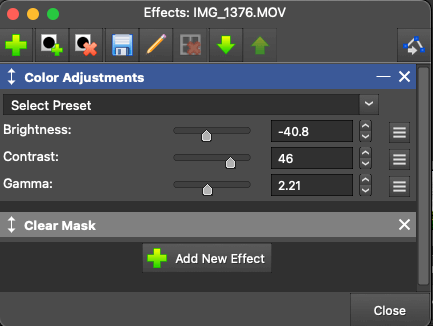 VideoPad offers an array of tools to help you optimize the captured scenes. You can fine-tune the color and tinker with the settings to create popping visual results or use the settings to create color gradients or process color corrections. Split, crop, trim, and mix your videos or loop the scenes to create personalized gifs.

Use the speed options to slow down, speed up, or reverse your playback based on the result you're trying to achieve. Use the video stabilization feature to reduce shake in the video, or incorporate your favorite plugins to add your go-to effects.
My personal take: VideoPad has an arsenal of optimization tools to create a more polished look, and while you might not find everything you need, the plugin support ensures you can bring in your favorite effects.
Add Audio
Add your favorite songs to your video or narrate the goings-on to preserve your memories for years to come. VideoPad allows you to import music tracks with ease, mixing your options to create a unique result.


The software offers various audio effects, including distortion, choral, and echo, allowing you to produce something that mirrors your idea for the finished product. You can even record your own narrations directly in the software with a simple click.
My personal take: Audio can add an extra layer to your video that creates a more polished result, and with VideoPad, it's never been easier.
Create Seamless Transitions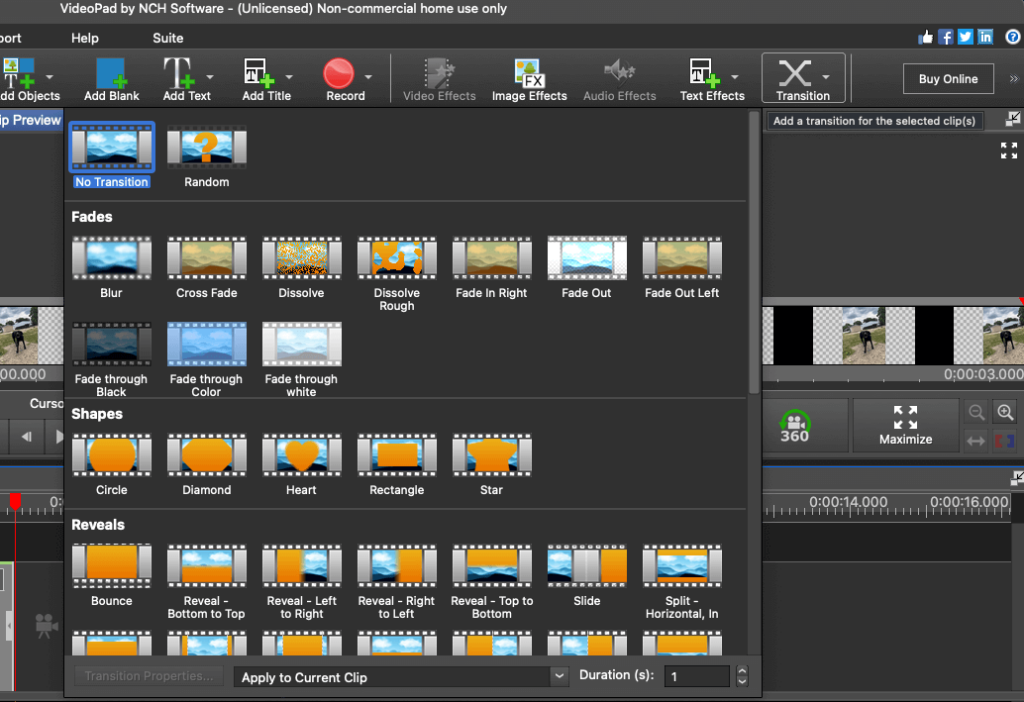 VideoPad provides various transition options to blend one scene into the next to create a seamless, cohesive effect. The transitions are a far cry from those abrupt, drastic shifts reminiscent of grade school PowerPoints.
Instead, they smoothly blend your creation into something that flows. You can choose from various transitions, including black or white, dissolve, and zoom. Mix it up with multiple transitions or keep things cohesive with a single transition between scenes.
My personal take: Transitions play a crucial role in editing a video to create a seamless finished product, and VideoPad makes it easy.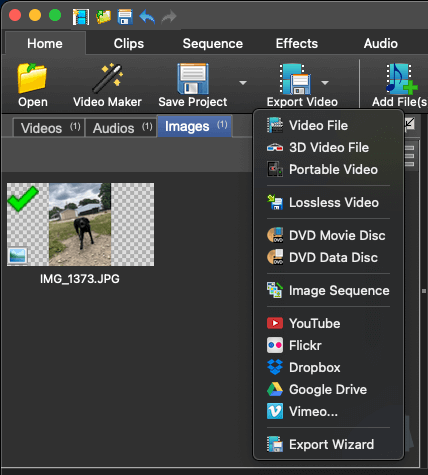 This software offers effortless, headache-free exporting to allow you to share your creations with friends and family. Share your newest creation online or upload it directly to YouTube. Or, save your files to OneDrive, Dropbox, or Google Drive for easy access from any device.
You can even save your video to PSP, iPods, iPhones, iPads, and Android phones/tablets – it's as easy as a few simple clicks.
My personal take: Sharing your creation and preserving its quality can be tricky, but VideoPad makes it simple. All it takes is a few clicks.
Reasons Behind My Ratings
Features: 3.5/5
VideoPad offers a solid array of features to create polished videos. It offers multiple built-in visual effect tools, transition options, and audio features that allow you to tailor your video to reflect your ideas.
It's somewhat outdated, but it still delivers an impressive array of features compared to its competitors, which charge for use and offer similar features. That said, it doesn't have advanced AI tools and storyboarding like other video editors. It does support various plugins, so you can bring in your favorite editing tools using this option.
Pricing: 4.5/5
This software is free for home use, so if you're a newbie videographer or want to tinker with video editing software, this is a great place to start. It has many of the same features as paid competitors, so it's an excellent alternative to other options.
If you're using the software for commercial use, you'll need to purchase the paid version. The Home Edition usually costs $80, while the Master's Edition costs $139, although they're both on sale at the time of writing.
Ease of Use: 4.5/5
Using this software is easy enough, as the controls are straightforward. If you're a beginner at video editing, learning to use this software will take some time, as you'll need to learn where each control is and what it does. Once you get the hang of things, it's easy enough to use.
However, if you're a seasoned expert or have at least some experience with video editing software, learning the location and functions of each tool will likely be a breeze.
Support: 4.5/5
VideoPad comes with ample support for its customers, ensuring they'll have the resources they need to troubleshoot the most common problems. Like many software help pages, the resources are divided into sections based on the type of question.
For example, there are pages for technical, purchasing, and registration support, each with categories outlining answers to common questions. If you can't find the answer you're looking for, you can always contact the customer support team.
VideoPad Alternatives
If You Want The Most Bang for Your Buck:
If budget is your primary concern when it comes to finding your next video editor, then you can't beat free! Normally I would recommend Nero Video to my budget-conscious readers, but I honestly feel as though VideoPad and Nero Video are comparable enough that you should just go with the free program unless you need to create videos for commercial use.
If You Want to Make High-quality Movies:
MAGIX Movie Studio has an incredibly user-friendly UI while offering high-quality effects and a number of useful features. If video editing turns out to be more than a passing interest for you, the experience you gain with MAGIX Movie Studio sets you up to learn the professional-level version of the program with ease.
If You Want The Cleanest and Easiest Program:
Nearly all of the video editors in the $50-$100 range are easy to use, but none are easier than Cyberlink PowerDirector. The creators of PowerDirector spent a great deal of time and effort creating a simple and pleasant user experience for users at all levels of experience.
Final Verdict
VideoPad is a strong contender in the world of video editing software, as it offers many of the same features as its competitors, but for free. It offers many things you would expect from a video editing software, but it doesn't go above and beyond.
So, while it's great for newbie videographers or those on a budget, I wouldn't recommend it to those seeking cutting-edge video editing tools. Those users should look at PowerDirector 365, MAGIX Movie Studio, or Adobe Premiere Pro instead.
Does VideoPad have all the editing features you need? Let me know in the comments below!