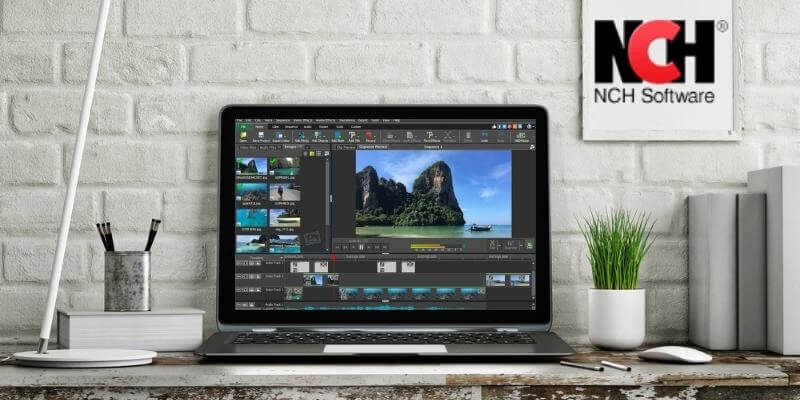 VideoPad
Effectiveness: Performs most important functions of a video editor
Price: Totally free for non-commercial use, full license is affordable
Ease of Use: Everything is easy to find, learn, and implement
Support: Thorough documentation, video tutorials are great
Summary
Having tested a number of sub-par and budget-friendly video editors recently, I was skeptical when I first encountered VideoPad, a totally free (for non-commercial use) program. Much to my surprise, VideoPad is not only passable but is superior to some of its $50-$100 competitors. This makes VideoPad a great choice for people who aren't looking to spend a healthy chunk of change on a video editing program. However, it's good enough to consider using it even if you aren't on a budget.

There are two paid versions of VideoPad, "Home" and "Master" edition. Both offer new features in addition to a commercial license. The Home edition is fully-featured but is limited to two audio tracks and no external plugins, while the Master edition permits you to use any number of audio tracks and allows external plugins. These versions normally cost $60 and $90 respectively on the NCH Software website but are currently available at a 50% discount for a limited time.

What I Like: Extremely fluid, malleable, and responsive user interface. Very easy to find exactly what you're looking for and learn the program. Surprisingly usable effects and transitions. Quick and easy to add text, transitions, and effects to your clips. Available for macOS users.

What I Don't Like: Though highly effective, the UI appears a little outdated. Copying and pasting results in some strange behaviors.
Editorial Update: It seems VideoPad is no longer free. We'll re-test this program and update this review as soon as we can.
It is a simple video editing program developed by NCH Software, a software development company founded in 1993 in Canberra, Australia. The program is geared towards the home and professional market.
Yes, it is. I tested it on my Windows PC. A scan of VideoPad's content with Avast antivirus came up clean.
Yes, the program is completely free for non-commercial use. If you're interested in using VideoPad for commercial projects or would like to have a few more features, there are two paid versions of VideoPad available.
The "Masters Edition" costs $100, comes with every feature that VideoPad has to offer, and can support an unlimited number of audio tracks and external plugins. The "Home Edition" costs $60 and is also fully featured, but restricts you to two audio tracks and does not support external plugins. You can purchase both editions, or download the program for free.
Why Trust Me for This VideoPad Review
Hi, my name is Aleco Pors. Video editing started out as a hobby for me and has since grown into something I do professionally to complement my online writing. I taught myself how to use professional video editors such as Adobe Premiere Pro, VEGAS Pro, and Final Cut Pro (macOS only). I also tested and reviewed a number of basic video editors catered to amateur users including Cyberlink PowerDirector, Corel VideoStudio, Nero Video, and Pinnacle Studio.
Because of my experience, I'm confident that I understand what it takes to learn a new video editing program from scratch. What's more, I think I have a pretty good sense of whether or not a program is high-quality, and what features you should expect from such a program.
I spent several days playing around with VideoPad on my Windows PC and made a short demo video (unedited), which you can watch here, just to get a feeling for the effects and output VideoPad has to offer. My goal in writing this VideoPad review is to let you know whether or not this program is one that you will benefit from.
Disclaimer: I have not received any payment or requests from NCH Software (the maker of VideoPad) to create this review and have no reason to deliver anything but my honest opinion about the product.
Several Thoughts About Video Editing
Video editors are complex and multifaceted pieces of software. Development teams have to worry about designing features in a way that is both effective and intuitive: the UI, the effects and transitions, the recording features, the rendering process, the color and audio editing tools, and more. These features tend to fall into one of two categories, "essential" or "non-essential", meaning that the feature is either necessary for creating professional quality videos or is simply nice to have.
The most common mistake I've noticed in my reviews for SoftwareHow is that developers tend to put a little too much effort into the "non-essential" features, the bells and whistles which make excellent bullet points on marketing pages but do very little to improve the actual quality of the videos the program is capable of producing. Frivolous features often come with a cost. It feels as though NCH Software, the creators of VideoPad, were aware of this common pitfall and did everything in their power to avoid it.
VideoPad is the most straightforward video editor that I've ever used. All of the most basic, essential features of the program are highly effective and generally work exactly as you'd expect them to. The UI feels clean and intuitive because the features you use the most are the easiest to find. The most critical tools you need for creating quality movies do their job admirably while providing a headache-free user experience, which is especially impressive when you consider that the program is completely free for non-commercial use!
The only true criticism I have regarding VideoPad is that it's so straightforward. Though this is certainly the program's greatest strength, it also manages to be its greatest weakness due to the program's stunning simplicity. The UI is highly effective, but it appears as though there was very little time spent on making it look nice. All of the basic tools are functional and fluid, but more than a few of the advanced features which you might hope to find aren't present in the program. That said, NCH Software and VideoPad deserve a great deal of credit for focusing on the essential features first.
Detailed Review of VideoPad
Please note: I tested VideoPad for Windows on my PC and the screenshots below are all taken based on that version. If you're using the program on a Mac machine, the interface will look slightly different.
The UI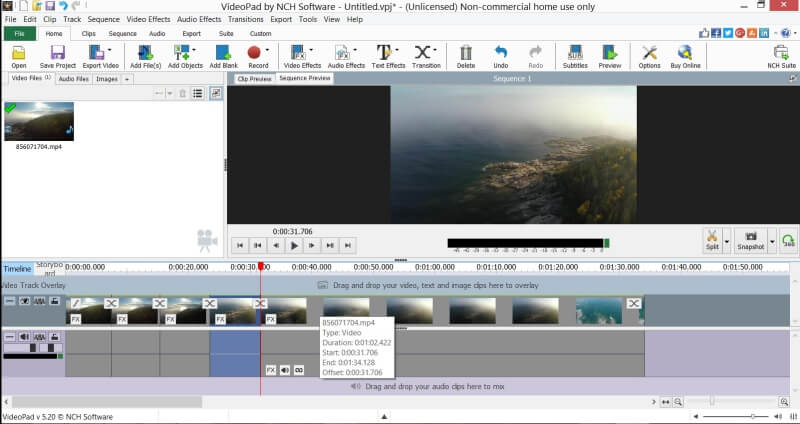 VideoPad follows some familiar, modern paradigms in its UI while adding a few of its own unique and welcome twists. The UI designers did a fantastic job at identifying the features of a video editor that people use most, such as making splits in the timeline, and making those features easily accessible. Moving the timeline cursor to a new location within the timeline automatically brings up a small box next to your mouse which allows you to clip at that location. The dropdown menus which appear after right-clicking on an element seem to contain more useful options within them than I found in competing programs. It feels as though a good deal more thought was put into organizing the UI of VideoPad than was put into other programs.
As a general rule of thumb, adding new elements or accessing new features brings up a pop-up window. This design choice works better in VideoPad than in other programs due to its amazing fluidity. I found that these pop-up windows did a great job of presenting all the options and functions you need without overwhelming the user with choices.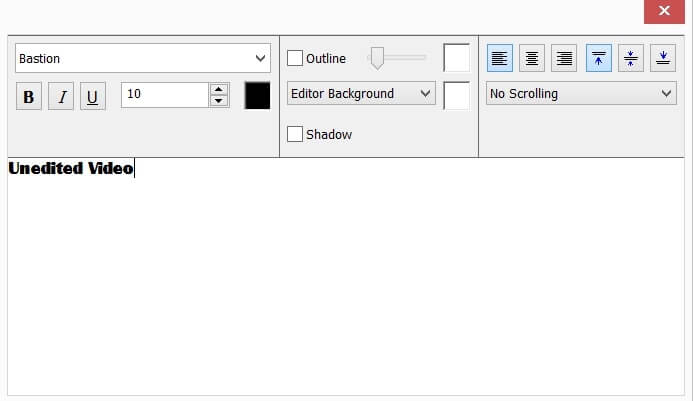 The only true downside to the UI is that it isn't much to look at. It looks outdated. However, the ugliness of the UI has no bearing on the effectiveness of the program itself.
The Effects and Transitions
As a free piece of software, I was wholly expecting the effects and transitions to be fairly low-quality. Much to my surprise, the effects and transitions in VideoPad are roughly on par with the ones I've seen from other video editors in the $40-$80 range. Though you probably won't be blown away by any of them, most of the effects are usable in a pinch and some of them look quite nice.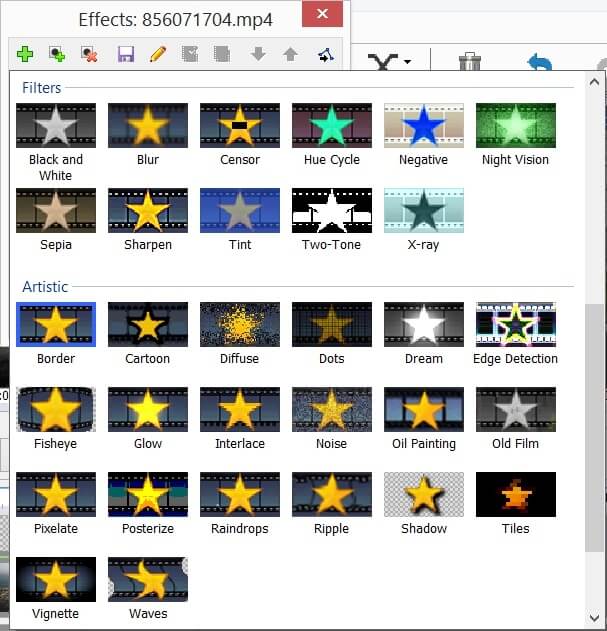 The transitions are of similar quality to the effects, which is to say that they're much better than I would have expected from a free program but not one of VideoPad's biggest strengths. I expect that the average user will be able to get plenty of mileage out of the transitions in VideoPad.
Recording Tools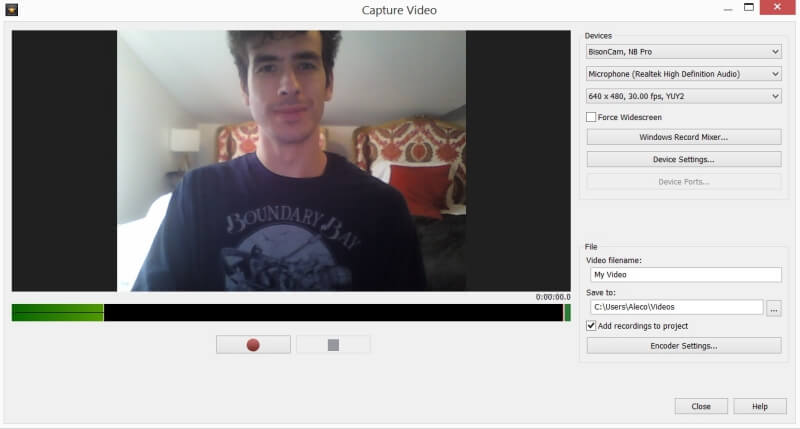 The recording tools in VideoPad worked as well as you could expect. They automatically detected my laptop's built-in camera and microphone, were simple to navigate through, and seamlessly integrated into the rest of the video editor, allowing you to add your home recordings into your projects with ease.
Rendering
The rendering process in VideoPad is just as straightforward: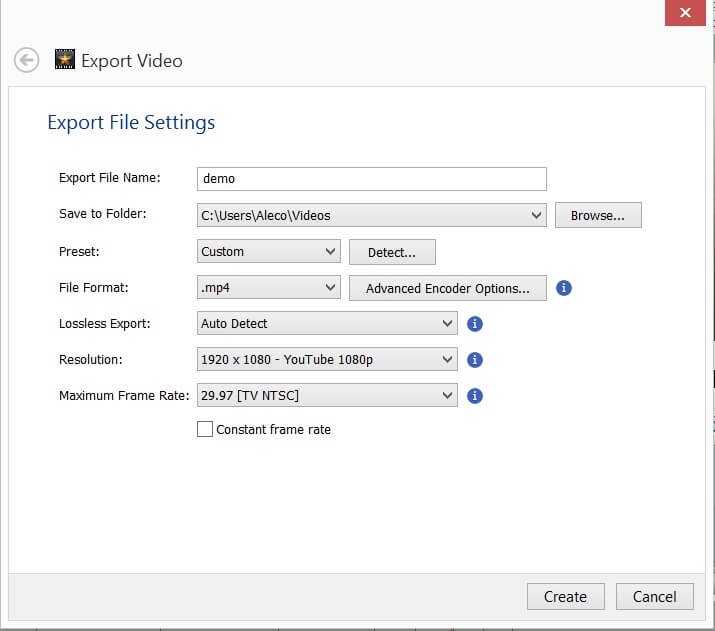 The program presents you with just as many rendering options as the average user would ever need, and the rendering process itself is neither slow nor fast. The thing that makes exporting in VideoPad great is the long list of easily accessible output formats. VideoPad makes it very easy to upload your videos directly to the internet or burn them to a disk.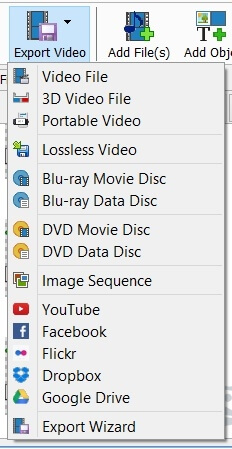 Suite

To be honest, I didn't try out the video and audio editing tools present within the Suite tab very much. It is my understanding that these tools, which are accessible through the VideoPad UI, are just completely different programs. All of them are free for non-commercial use without a license.
Reasons Behind My Ratings
Effectiveness: 4.5/5
VideoPad does everything you need it to do with none of the bells and whistles. The most important video editing tools are the program's greatest strengths.
Price: 5/5
It's hard to get better than free! Completely free for non-commercial use, VideoPad is the most cost-effective video editor on the market. It's not super expensive for commercial use either – the paid versions normally cost $60 and $100 dollars but are currently on sale for just $30 and $50 dollars. If you end up enjoying the program, consider purchasing a license to help support the developers.
Ease of Use: 5/5
I can't recall a single instance in my testing of VideoPad where I struggled to find a feature or tool in the program's UI. Everything works exactly how you'd expect and you're liable to find it where you'd expect to as well. The program also operates on a relatively low amount of resources, providing a smooth and fluid user experience throughout.
Support: 5/5
NCH Software provides a tremendous amount of written documentation on their website, along with a useful assortment of video tutorials to help get you started with the program. If you're ever facing a particularly tricky problem, you can also submit a written support ticket or take it to the VideoPad official forums.
VideoPad Alternatives
If You Want The Most Bang for Your Buck:
If budget is your primary concern when it comes to finding your next video editor, then you can't beat free! Normally I would recommend Nero Video to my budget-conscious readers (you can read my review of Nero Video), but I honestly feel as though VideoPad and Nero Video are comparable enough that you should just go with the free program unless you need to create videos for commercial use.
If You Want to Make High-quality Movies:
VEGAS Movie Studio has an incredibly user-friendly UI while offering high-quality effects and a number of useful features. If video editing turns out to be more than a passing interest for you, the experience you gain with Vegas Movie Studio sets you up to learn the professional-level version of the program with ease. You can read my full VEGAS Movie Studio review here.
If You Want The Cleanest and Easiest Program:
Nearly all of the video editors in the 50-100 dollar range are easy to use, but none are easier than Cyberlink PowerDirector. The creators of PowerDirector spent a great deal of time and effort creating a simple and pleasant user experience for users at all levels of experience. You can read my full PowerDirector review here.