In this article, I will go over some of the best Procreate classes and courses available online. The app has been around for such a long time, there are endless resources to learn just about anything.
I'm Carolyn and I've been using Procreate to run my digital illustration business for over three years. When I initially started using Procreate, I taught myself by using video tutorials and blogs and it took much longer than it needed to. I'm here to tell you that there is a better way.
I recommend investing your time into a course instead so that you make the most of your time and cover all bases which will save you time and stress in the long run. I always suggest taking a beginner course and then continuing with more advanced courses as you progress.
There's always a new technique or feature to learn, so this should be an ongoing process for you as a digital artist. Since I began using the app, I've completed multiple Procreate courses from different websites such as Udemy, Skillshare, and even Procreate itself.
6 Best Procreate Courses for Beginners
Below are my top 6 Procreate courses for beginners that you can access online. If you're starting from scratch, one of these options is a great way to get you up and running: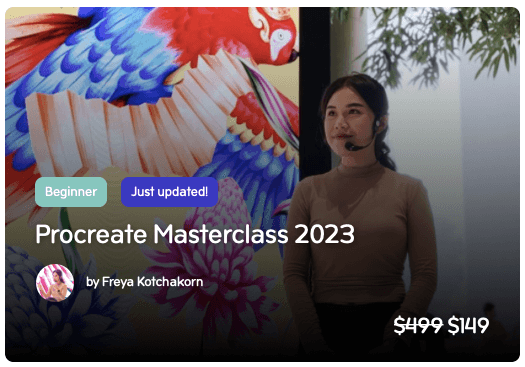 This course is a well-design and research-based class that covers all of the essentials to get you started on Procreate. It covers all of the basics plus some specialty topics like drawing 3D fruit and realistic flowers and plants and is easy to follow along with and quite enjoyable too.
After purchasing this course, you get six free bonus tools to use within Procreate and continual learning updates. On top of that, you get lifetime access to all of the Procreate video content and they offer a 30-day money-back guarantee if you decide you don't like the course.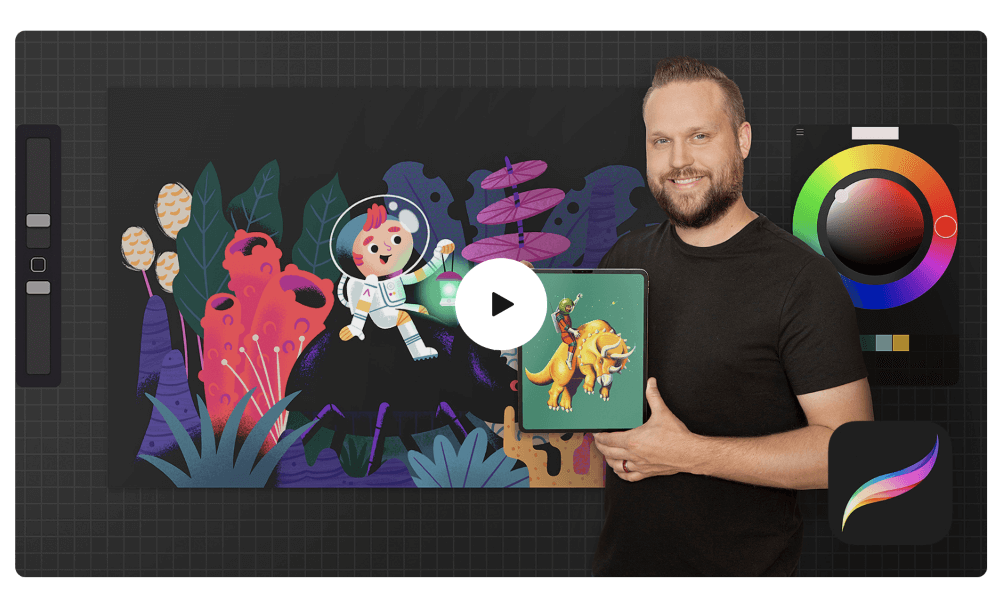 This course takes you through a step-by-step breakdown of how to use the app from the very beginning. This includes showing you where each tool is, how to use it, and why you would need to use it in the future. This covers your entire project from start to finish.
With almost 50,000 students already, this course has been tried and tested and is guaranteed to get you started on all of the Procreate basics. This covers specific tools and features rather than specific subjects. All you need to have is an iPad, your Apple Pencil, and the app.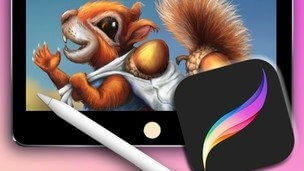 This Procreate course is run by an extremely experienced artist and is constantly being updated with the newest features and improvements. It is targeted towards beginners and intermediate users as it covers a broad range of techniques for all experience levels.
This course will cover not only the basics but also some fundamental tools in Procreate from layer blend modes all the way to color theory. This offers a more holistic approach to learning Procreate as it explains why and when you should use each technique, not just how.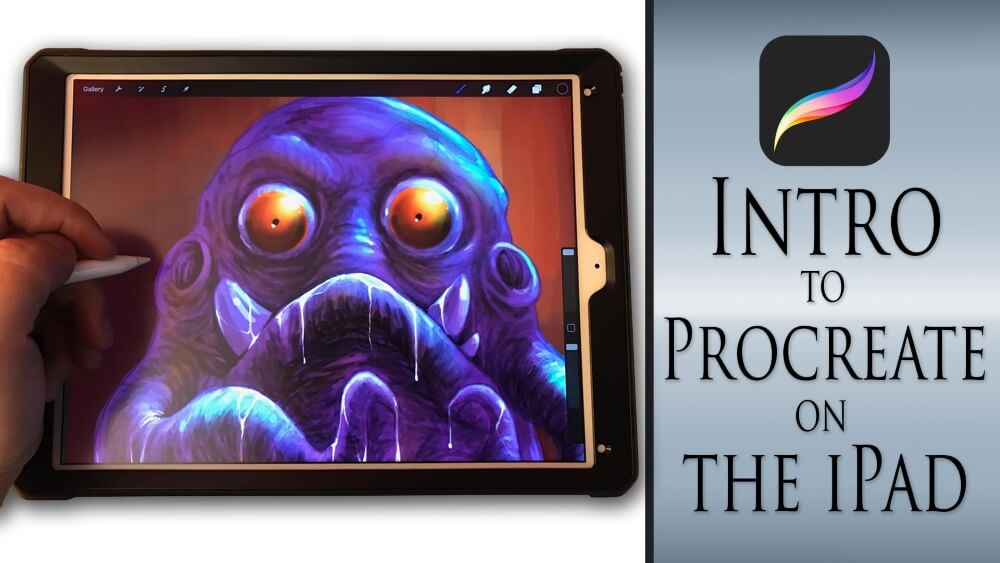 This is a quick and painless introduction to the Procreate app and how it works on your iPad. This is less focused on developing your drawing or design skills and more aimed at understanding the user interface to get you started once you first download the app.
With 13 clear, short, and precise videos, you will be up and running and ready to paint in just over an hour so this should be the first course you take if you've never used Procreate before. Marzullo covers fundamental tools like the adjustments tool, brushes, and gesture controls.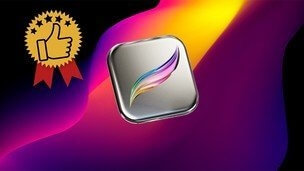 This thorough Procreate course will suit an absolute beginner and an intermediate user as it covers such a large range of features and settings all the way from basic app navigation all the way to the difference between vector and raster graphics and why we use them.
If you're looking to start from the very beginning but also cover a lot of ground and learn about the in-depth technical features of Procreate, then this course would be ideal for you. It also comes with extra resources, a certificate of completion, and various practical exercises.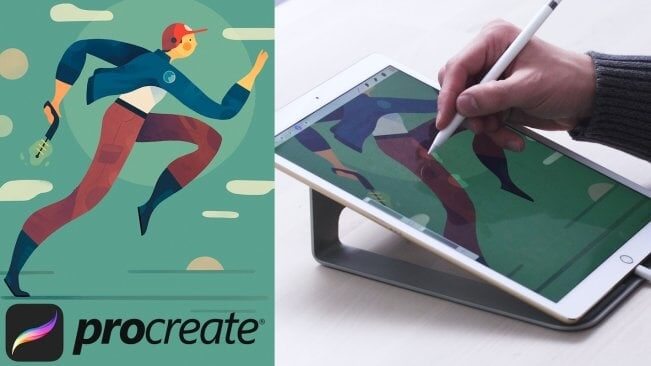 This course is taught by an avid illustrator and covers all of the basic fundamental tools to get you started on Procreate. He also shares some of his favorite tips, tricks, and shortcuts on how to quickly navigate the app to your advantage. Over 180,000 students will vouch for it.
If you want a start-to-finish process then this is the course for you. It starts with setting up your canvas, sketching your image, using the selection tool, and then moves on to adding shading and background and finishes with showing you how to export your completed drawing.
5 Best Procreate Courses for Everyone
If you're past the beginner stage and want to build on your current skills, here is a list of courses targeted toward more experienced Procreate users:

This article takes the basic Procreate tools that we already know and love and shows them in a different light. This course shows next-level possibilities using the tools that we use every day but not to the best of our ability like layer masks and negative rendering.
This course would be ideal for someone who is comfortable with Procreate but wants more from their skills or has possibly become complacent with their drawing techniques. It requires a good basic knowledge of all the Procreate tools and also some of your imagination.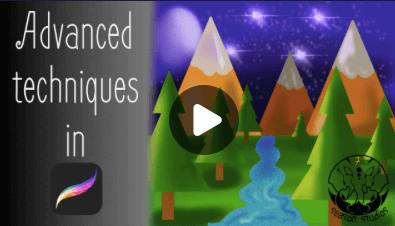 This brief course takes under an hour to complete its 9 lessons covering some advanced techniques like working with primitives, color theory, and flatscapes. If these three topics are of interest to you, then this course will get you fully immersed in each of the nitty-gritty details.
This is a hands-on course that will challenge you to explore using size to create depth in your work and also apply various textures to attract focus within your canvas. On top of these artistically focused topics, it also includes geometric brushes and color theory resources.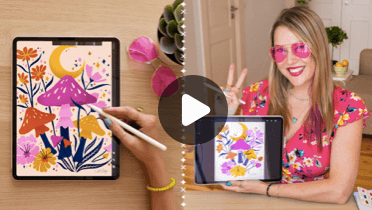 This course is perfect for those of you interested in retro-style art for creating visually striking imagery and patterns. You should have a basic level of knowledge of the Procreate program, to begin with, but this awesome instructor has made it very clear and simple even if you don't.
This offers a start-to-finish program explaining how to decide what you will create and where to even start. It then goes on to cover more detailed processes like creating crescent move shapes, drawing floral patterns and infusing texture, and even working with embellishments.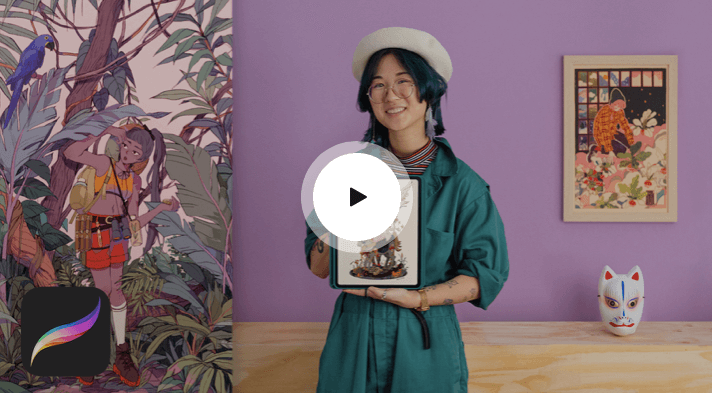 This course is hosted by artist Mochipanko in German with English subtitles. It offers a thorough and in-depth dive into what Manga is, its history, and where it comes from. The artist then moves on to show exactly how to create your own Manga-style artwork from scratch.
This course is suitable for beginners, however, I recommend having a basic understanding of the Procreate brush library to save you some stress when completing the exercises in this course. You will have a cool and unique finished Manga character by the end of this course.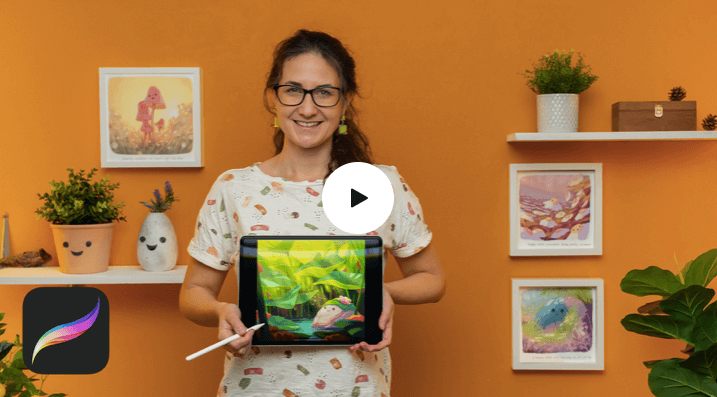 This course shows you how to create awesome eye-catching, colorful, and striking scenes including objects and backgrounds. You should enter this course with an open mind and fluid creativity when it comes to translating your ideas into amazing and colorful imagery.
Ramona covers the basics of light, simplifying complex shapes, and then detailed rendering tools. By the end of this course, you will be shocked by a kind scene that you created using these fine-tuned studies of how color and light are represented on your canvas.
FAQs
Below is a selection of your frequently asked questions about the best online Procreate courses. I have briefly answered them for you:
How long does it take to learn Procreate?
This is all dependent on the learner at hand. It can take you anywhere from a few hours to a few weeks to learn the basics of Procreate. For me, it took about a week of practicing a couple of hours every day to be somewhat proficient with the app.
Is Procreate worth it for non-artists?
Yes! Procreate is an app that has something for everyone. It depends on what you are using the app for but it has many tools to help you improve your drawing skills. It also offers a lot of non-drawing tools like photo editing and animation.
What is the easiest thing to draw in Procreate?
Shapes. The Procreate QuickShape tool allows you to draw whatever shape you desire and by holding it down on the canvas, it transforms it into a perfectly symmetrical version of your hand-drawn shape. This is one of the easiest things to create in the app.
Is it worth buying an iPad for Procreate?
Absolutely. iPad is the only compatible device for the original Procreate app and it works best on it. So if you plan on using the Procreate app, it is 100% worth it to invest in an iPad first.
How do you master Procreate?
Investing time in Procreate is the only way to master it. The more time you spend using the app and learning how to use all of its tools and features, the better Procreate wizard you shall become. Practice makes perfect and that's particularly relevant when it comes to this app.
Conclusion
Procreate is becoming more and more popular as time goes on so courses and classes are becoming more in demand with each passing day. New options are popping up daily so this list is a great starting point for options that have been tried and tested by hundreds of users.
It's absolutely worth your time and/or money to invest in a course whether you're starting from the beginning or looking to advance your current skills. Continual professional development is a normal part of most careers so your digital drawing experience should be no different.
Have you taken any of these courses or have one that you recommend? Leave your feedback in the comments section below.