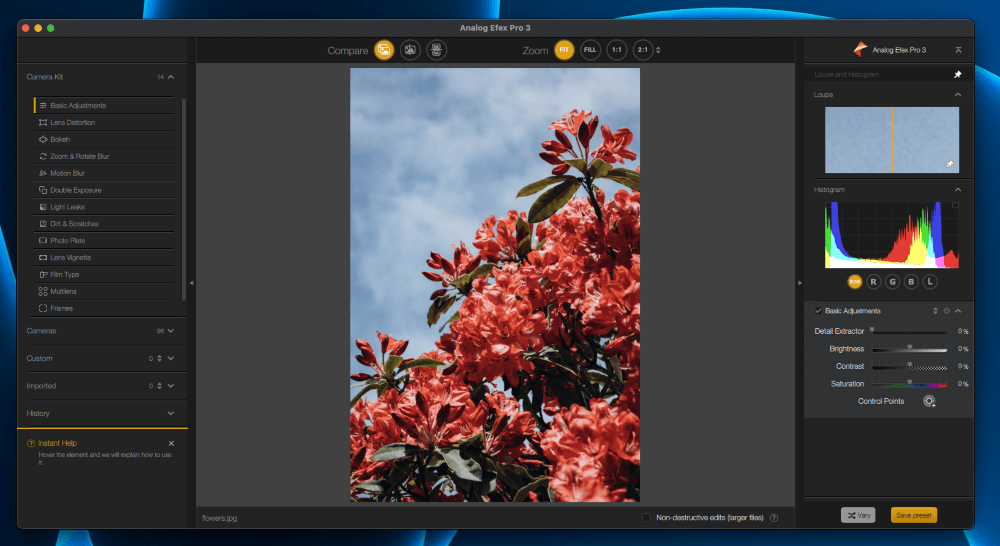 Nik Collection 5
Features: This software is well-rounded, with nearly every feature you might expect from photo editing software.
Pricing: Pricing is on-par for software of its kind, but you can always start with a free trial if you're on the fence about purchasing a license.
Ease of Use: The software is easy enough to use, especially if you're familiar with editing software, but there might be a learning curve for beginners.
Support: With ample resources via a detailed FAQs page, plus a request option for more assistance, users receive plenty of support.
Summary
Nik Collection 5 is a photo editing software that provides a well-rounded arsenal of powerful tools in one bunch. The collection is one of DxO's offerings and features eight photo editing tools. These tools work as plugins through staples like Adobe Lightroom, Photoshop Elements, DxO Photolab, and Serif Affinity, among others.

Each tool serves a specific purpose, some facilitating quick edits through a single click and others providing adjustment tools to create a unique result. The software can be an ideal pick for photographers looking to simplify and accelerate their editing processes. However, it might not be suitable for photographers who enjoy elevated levels of precise, manual control in their edits.

What I Like: Nik Collection 5 features an intuitive interface and plenty of customization settings and is compatible with Lightroom and Photoshop.

What I Don't Like: The software's processing speeds are somewhat slow, and its nondestructive workflow support could be better.
Is Nik Collection 5 software safe?
Yes, Nik Collection 5 software is legit and safe to use.
Is Nik Collection 5 free?
No, Nik Collection 5 isn't free, but you can start with a free 30-day trial to test compatibility.
Is it worth upgrading to Nik Collection 5?
While the answer to this question varies based on your personal situation, many photographers find one or more of the plugins useful. You can always try a free trial to test compatibility.
Why Trust Me for This Review
Hi, I'm Jon, a content creator and digital marketer. Throughout the year, I will edit several photos for work and personal use. I often use macOS's built-in photo editor, but it lacks many features and isn't the best.
On the other hand, I don't want to spend money on an expensive program like Photoshop for just several uses throughout the year. As such, I am always looking out for affordable photo-editing software.
If you want an affordable photo editing program full of useful features, then Nik Collection 5 is an excellent choice. This software is simple, intuitive, and fast. It works within Photoshop and Lightroom Classic or as its standalone software. You can use its innovative tools to create slick photographs, but it has a few negatives.
Detailed Review of Nik Collection 5
Nik Collection 5 is a photo editing software that offers a well-rounded passel of features in an easily accessible bunch. The tools simplify the post-processing workflow, speeding up the process and potentially allowing you to complete your editing without a hitch.
Here are a few key features of the Nik Collection 5 software, along with my personal take on each feature.
Analog Efex Pro 3
This plugin feature allows users to simulate vintage cameras and shooting techniques. It has numerous filters that, when applied to a photo, make it look dated like it was shot on a specific camera.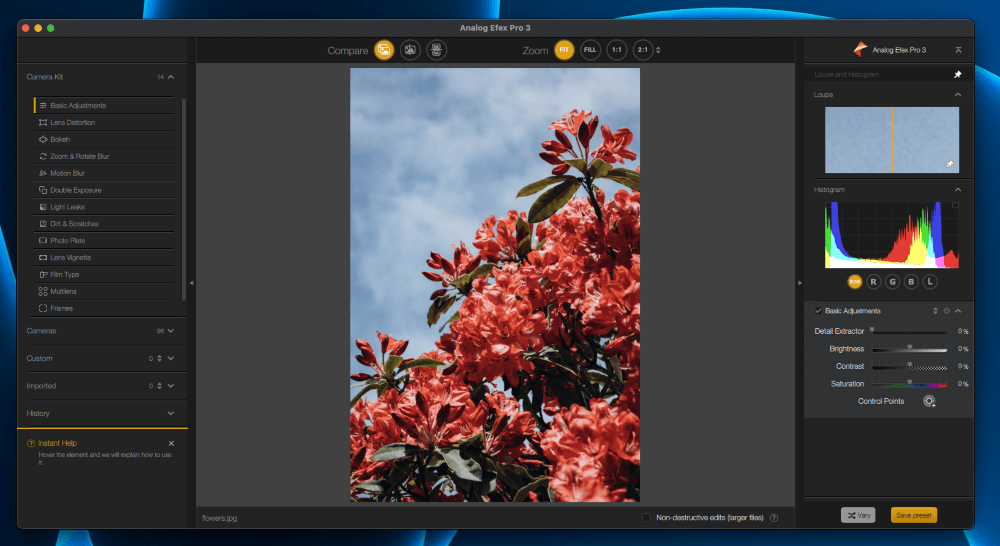 This option also allows you to tinker with edits by hand to create your own finished products that blend a modern take with an old-school feel.
My personal take: If you enjoy the nostalgia of pictures from the past, this tool can be a great way to integrate sprinkles of old-school looks into your work. Convert the entire picture in a few easy steps, or manually adjust it to meet your preferences.
Color Efex Pro 5
The Color Efex Pro plugin is a staple of the Nik Collection and has been a go-to pick for landscape photographers since the collection was introduced. This powerful plugin offers a plethora of filters you can apply to your photos to create effortless, creative effects and looks.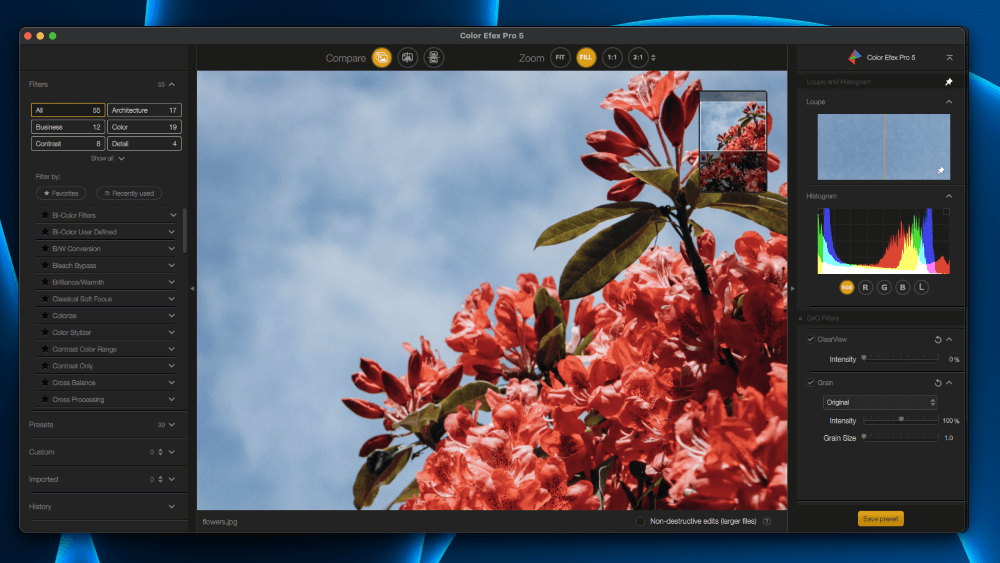 There are dozens of powerful filters, each of which is customizable, that you can layer atop the other to create a beautiful result.
My personal take: This tool can be a great way to take your work to the next level, as it's a powerful tool to process your color photos. Whether you want to add a touch of pizazz through one filter or combine multiple effects, you can do it with Color Efex Pro.
Dfine
The Dfine tool is designed with a single purpose that can create a world of difference, especially for photographers that notice the finite details of their photos. This tool helps eliminate digital noise, like color and contrast noise, from your photographs.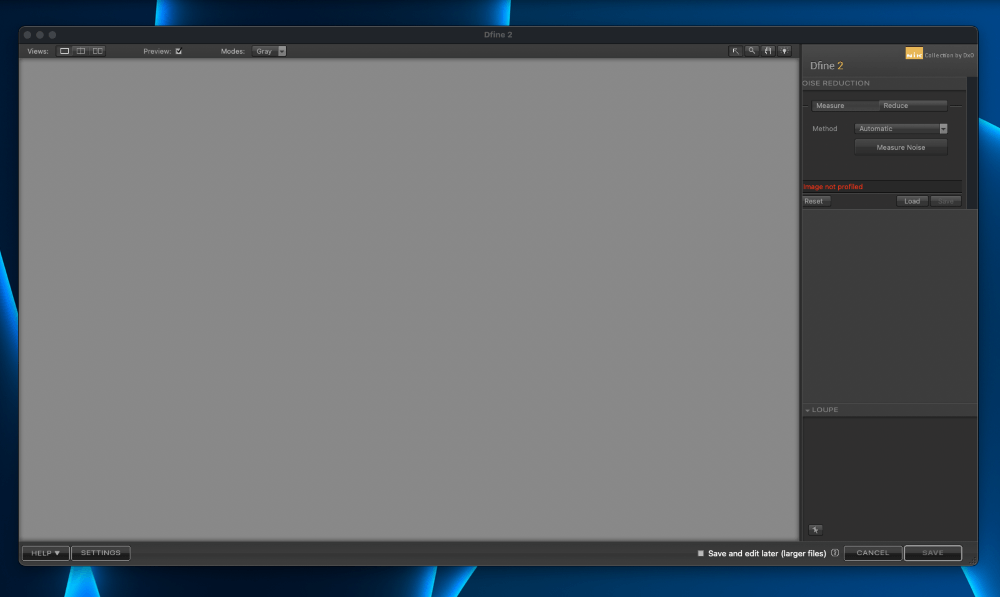 The tool has a couple of reduction methods, including automatic and manual. The plugin will do the work for you in the automatic mode, but you can always use the manual option to complete the project by hand.
My personal take: Digital noise reduction can make a noticeable difference in your photos, helping to eliminate excess colors and contrast and create a smooth result. While this tool is undoubtedly simple, it's incredibly useful.
HDR Efex Pro
The HDR Efex Pro plugin allows you to create HDR images from one or more images. The tool pulls details from shadows and recovers them in the highlights, effectively creating a single-file HDR.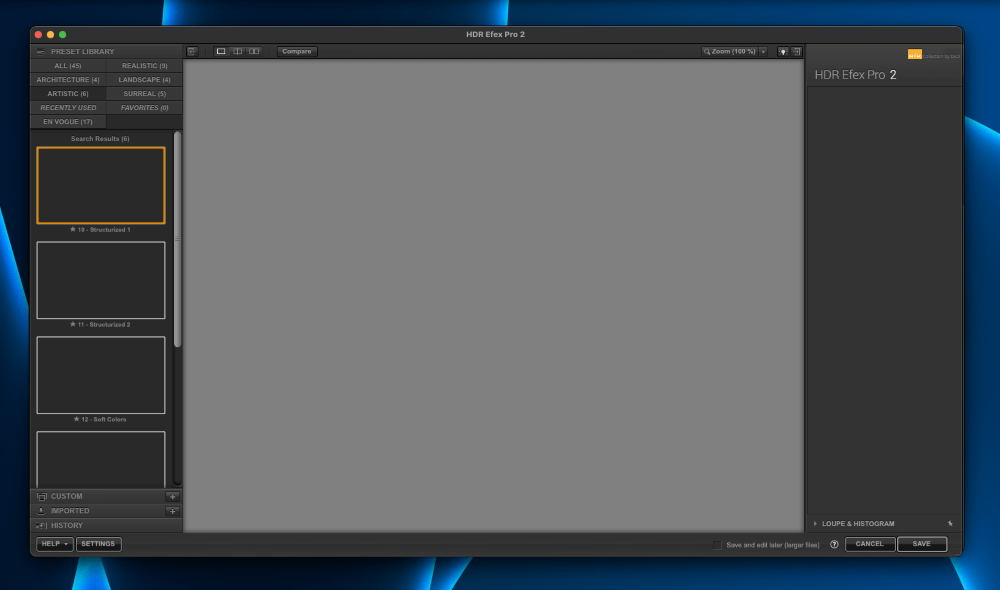 To create a multi-image HDR, the tool merges your chosen images of different exposures to create a single, well-balanced file. You can easily adjust and improve the output using the supplied sliders, making minor corrections to achieve your desired result.
My personal take: This tool is an excellent option for people who are working on advancing their Photoshop skills, as it takes the grunt work out of blending images to create a high-quality result.
Perspective Efex
The Perspective Efex tool makes it easier to contend with geometric problems like perspective and volume distortion. While this problem is less common for landscape photographers, these issues are unfortunately common for architectural photographers.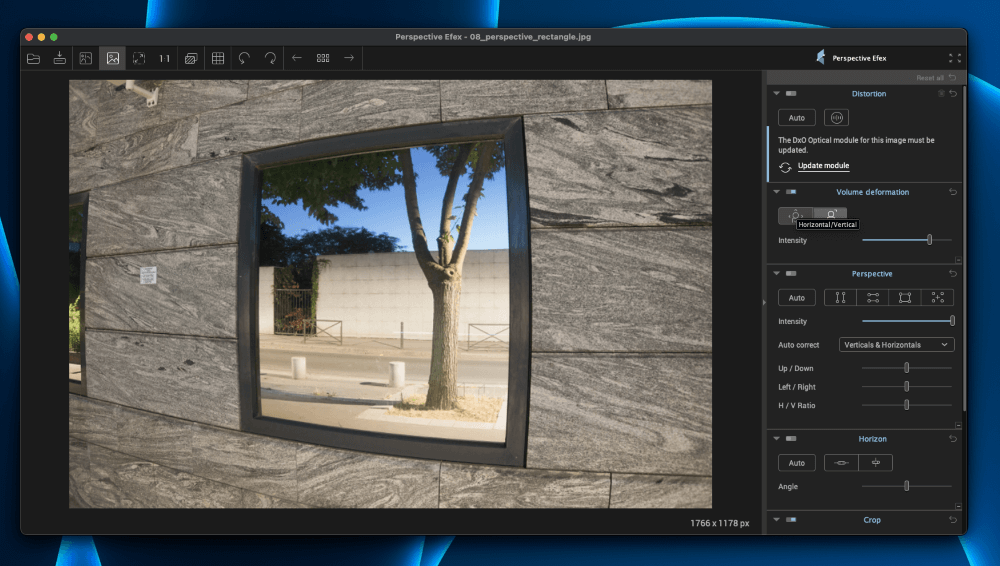 This is where Perspective Efex comes in. It allows users to manipulate the photograph, correcting distortion, vignetting, and chromatic aberration. Although using it might seem daunting initially, it's not as tricky to use as it looks.
My personal take: This tool is particularly handy for architectural photographers, but other photographers might find it comes in handy for them, too. It's surprisingly easy to use, and sometimes, corrections can be made with a single click!
Silver Efex
This plugin tool is similar to the Color Efex Pro, as it has remained a fan favorite for years. It's a staple for black-and-white photography, as it offers an easy way to morph your creations into beautiful black-and-white photos.
The tool comes with over 60 ready-to-go presets, so you can easily choose an option you like without having to tinker with it. However, you can adjust the series of sliders for more control over the finished product.
My personal take: This tool is a must-have if black-and-white photography is your cup of tea. The presets are easy to use and even easier to adjust via accessible sliders.
A fuzzy photo isn't usually the desired result when taking a photograph, so when you're reviewing your photos and come across a few, it can be disappointing. But luckily, there are sharpening tools available to save the day!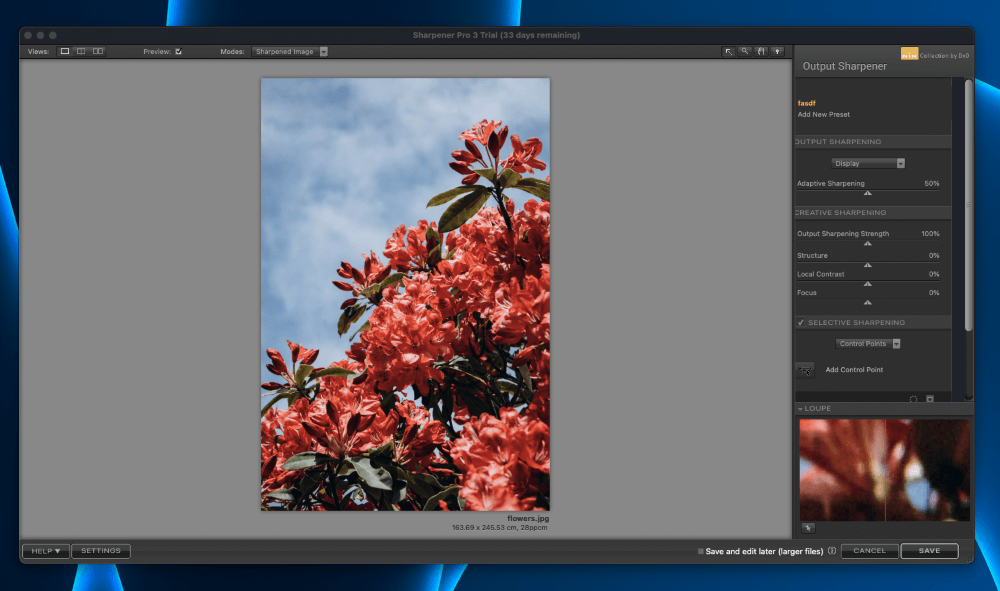 In the Nik Collection 5's Sharpener Pro plugin, there are two modules: RAW Presharpener and Output Sharpener. The two options allow you to run through a preliminary sharpening and follow it with output sharpening to hone the final result.
My personal take: Sharpening is an essential piece of any photographer's post-session workflow, so these two modules are incredibly useful.
Viveza
The last of the Nik Collection 5 is the Viveza plugin tool. This tool is designed to adjust the saturation, luminosity, and contrast of the photo. It allows you to make those seemingly minor changes that truly make the photo pop.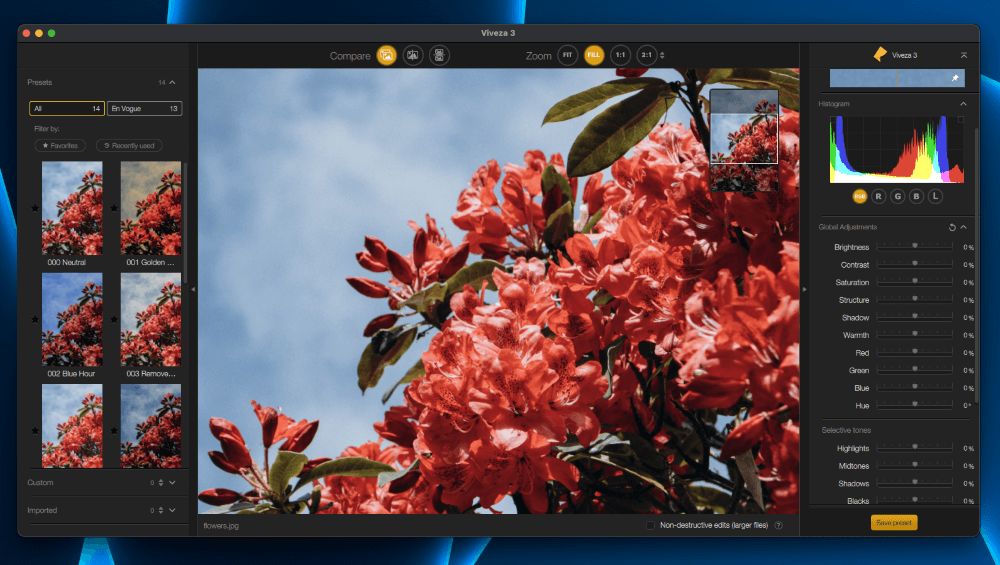 Like several other tools in the collection, this tool has Control Points that allow you to apply your adjustments to specific parts of the photo to achieve various results.
My personal take: This tool is beneficial when adjusting colors and tonality, which are essential to editing photos. It does precisely what it promises and nothing more, so it's easy to navigate.
Reasons Behind My Ratings
Features: 4.5/5
The Nik Collection 5 comes with most of the features and controls you might expect from photo editing software. Each plugin does its job and is complete with everything you'll need to complete that particular step of the editing process.
However, while the selection is well-rounded, some of the plugins, like Viveza, could be better. For example, Viveza doesn't offer quite as many adjustment options as competitors, so you'll have slightly less control than you would with alternatives.
That said, the lineup is undeniably solid.
Pricing: 4.6/5
To use the Nik Collection 5, you'll need to purchase a license. The lifetime license comes at $149, which is more than fair, considering the number of tools you get.
However, committing to editing software can be a bit daunting, especially if you're unfamiliar with it. So, if you're on the fence regarding the Nik Collection 5 software, start with a 30-day trial. That way, you can test the features to determine whether they fit your needs.
Ease of Use: 4/5
Overall, the Nik Collection 5 software is fairly easy to use, especially if you're familiar with editing software. The setup is similar to other editing tools, so there isn't an overwhelming learning curve.
However, adjusting to the features might be a bit daunting if you're new to photo editing software. Once you get the hang of it, it's straightforward to use, but initially, it might be overwhelming.
Support: 4.2/5
Although Nik Collection 5 software features an easy-to-use, intuitive interface, users might encounter issues every now and again. When these problems arise, you can refer to the extensive FAQ section on DXO's website, which covers common questions in categories like functionality, how-tos, error conditions, and installation.
If you can't find the answer you're looking for there, you can always reach out to the customer support team by sending in a request.
Final Verdict
The Nik Collection 5 software can be a handy tool for photographers to keep in their arsenal. While photographers might not use every single feature in the lineup, most will find at least a few staples in the bunch that accelerate their workflows.
The features in the Nik Collection 5 software are an excellent choice for photographers looking to speed up their workflow (within Photoshop and Lightroom Classic or as standalone software), as they're easily accessible, create beautiful results, and are fully customizable.
However, this software might not be the best choice for folks who prefer to manually adjust their photos, as not all of the plugins offer advanced manual controls.
What's your feedback on this Nik Collection review? Share your thoughts below.