PaintTool SAI is not free but does offer a 31-day free trial. You can purchase a license of PaintTool SAI for approximately $52 from the SYSTEMAX website.
There are a variety of websites where pirated PaintTool SAI copies are available, but keep in mind you will run the risk of downloading malware and other malicious content.
My name is Elianna. I have a Bachelor of Fine Arts in Illustration. I have used PaintTool SAI for over seven years and know everything there is to know about the program.
In this post, I am going to explain If PaintTool SAI is free, and how to get the free trial. Let's get into it!
Key Takeaways
PaintTool SAI is not free.
PaintTool SAI has a 31-day free trial.
How to Get the PaintTool SAI Free Trial
In order to get the free trial of PaintTool SAI, all you have to do is download it from the SYSTEMAX website.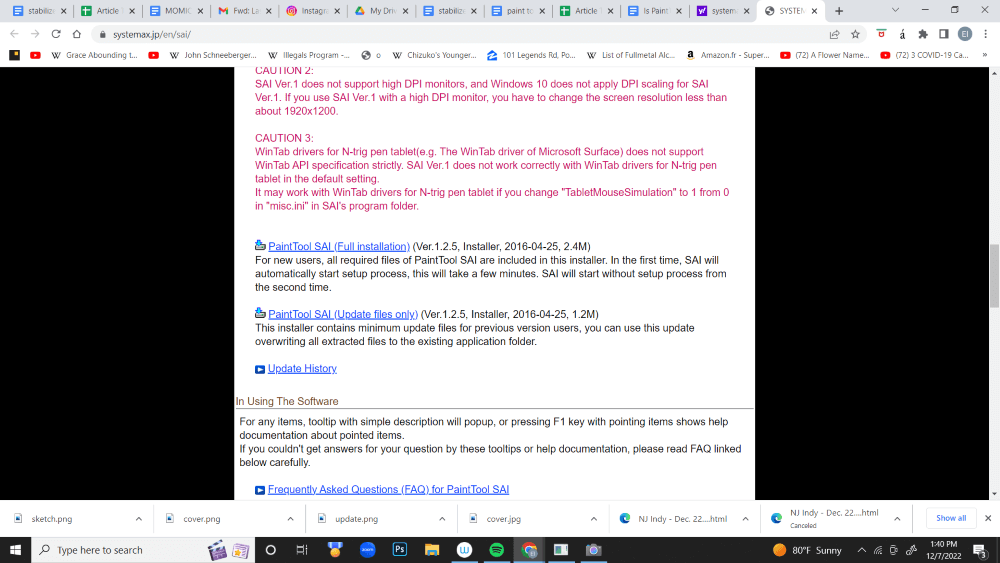 Once you install the software, you will have 31 days to experiment with it, after which the open/save functions will be disabled. After the trial period is over you will need to purchase a software license.
If you do download and use the trial period, make sure to save your files as .psd and .png so you will be able to view and edit them if you do not decide to purchase a PaintTool SAI license.
FAQs
How long does a PaintTool SAI license last?
A PaintTool SAI license lasts for life. There are no monthly or annual subscription plans. As long as you have access to the email you purchased PaintTool SAI with, you can access your license. If you lose your license, you can get it reissued through this link.
What is similar to PaintTool SAI?
Some similar programs to PaintTool SAI include Procreate, Medibang, and Krita. To learn more about the best PaintTool SAI alternatives, check out the following articles:
How do I get rid of the SAI cloud license?
In order to get rid of a PaintTool SAI license you will have to remove it on saicloud.com
Final Thoughts
PaintTool SAI, while economical, is NOT free, although you can download a 31-day free trial. Just make sure to save and download your files as .psd and .png or .jpg in case you decide to go with another software.
If you would like to know more about how much PaintTool SAI costs and where to purchase it, check out my article How Much is PaintTool SAI and Where to Purchase it.