Even if you're not a tech expert, creating a bootable backup copy of your hard drive is a sensible safety precaution. You never know when a drive's hardware might fail, and ransomware that encrypts your data to extort money from you is a genuine and growing problem.
But there are so many options! Where do you begin selecting a cloning and imaging app that works for you? That's where we come in. We performed an exhaustive review of every major app available. What are the results?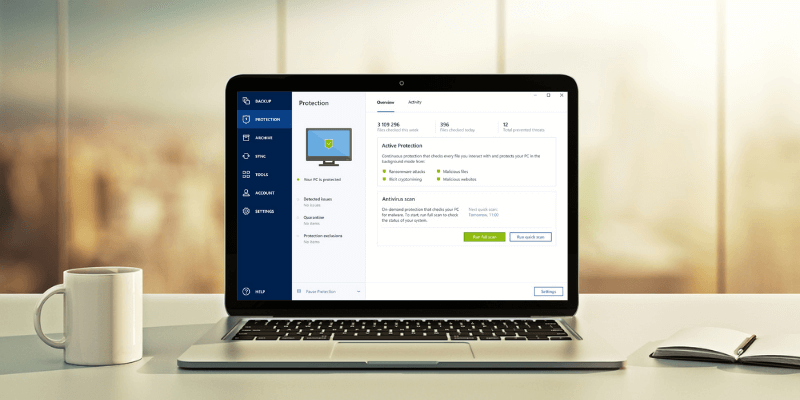 The best disk imaging program I've tested is Acronis True Image. It has a great set of tools for creating disk images, cloning drives, and performing automatic backups wrapped in a modern, user-friendly interface. It's available for Windows and Mac. The two versions work almost identically, so you can use the same program across all your devices. It's not yet available for Linux unless you buy in at the enterprise level. However, you can still clone and image Linux drives.
True Image's automatic backup features are extremely useful and fully customizable to match any schedule and backup style. There's even an Acronis cloud storage service available that allows you to store a drive image at a separate location—definitely "best practice" from a data security perspective. If the worst should happen, you'll still be able to restore your data from your off-site disk image.
If you're looking for something simpler and (infinitely) cheaper, Macrium Reflect Free is a good option for Windows users. Look no further than SuperDuper if you are on a Mac computer. Neither of these options has the kind of complete feature set you'll find in purchased software, but they might be enough for your needs.
Why Trust Me for This Guide
My name is Thomas, and I've been using computers at work and play for about 30 years. I played my first computer game as a very young child at school. Since then, I've been fascinated with every aspect of these wonderful machines. I've built gaming computers, office computers, media centers, and retro gaming console clones. All of them required me to work with disk images in some way.
Old guy voice: In fact, I've been using computers since before they even had hard disks *waves cane*. We used to be forced to copy data over a 9600 baud serial link! Uphill! Both ways! In a snowstorm!
Uh… where was I? Disk images? Remind me to create a disk image of my brain one of these days…
What Do You Need from Your Disk Image?
Aside from a bootable copy of your brain, there are a couple of different reasons why you might want to create a copy of a disk drive. Upgrading your machine and security backups are probably the two most common reasons for cloning or imaging a disk drive. However, working with disk images is also required for hobbyist computer projects like the Raspberry Pi and other Linux machines.
What's the Difference Between Cloning and Imaging?
While disk cloning and imaging are pretty similar, your specific situation determines which technique you should be using.
Disk cloning is the process of copying every aspect of a drive onto a new piece of hardware. Once cloning is finished, the new drive contains a perfect copy of the old drive's data and boot structure. Cloning is typically used when upgrading your computer's storage drive to a faster and/or higher-capacity device.
Disk imaging works similarly. Instead of copying the contents of your current drive to a new drive, though, all the information is stored in a single file known as a 'disk image' or 'drive image' (more on that in a minute). Disk imaging is used in a range of different applications, from creating system restore disks to personalized backups to managing computer resources across large organizations.
Disk? What Disk? Don't You Mean Drive?
A quick note in case you find the terminology confusing. The primary storage devices used in household computers are sometimes called 'disk drives' because of an ancient technology (haha) that used a stack of spinning magnetic platters to store information.
Many use the words 'disks' and 'drives' interchangeably. Some try to prevent confusion by calling everything a 'drive.' The term 'drive' is a relic from some of the earliest hard drives: magnetic tape storage devices that required a drive system for turning the tape reels.
The best modern storage drives are 'solid-state drives,' also known as SSDs. They have no moving parts, so they can't be drives, right? Well… wrong. The old name is still used all the time, especially among us aging techies. Why? Well, because.
To summarize: disk image, drive image, and disk drive image all mean the same thing.
Best Paid Hard Drive Cloning Software
The best disk cloning & imaging software that I've tested is Acronis True Image. Acronis True Image (ATI) was first released in the early 2000s, and the developers have consistently released new and improved versions every year since 2009. I've tested a number of the previous versions as well, and they've provided a consistently excellent experience.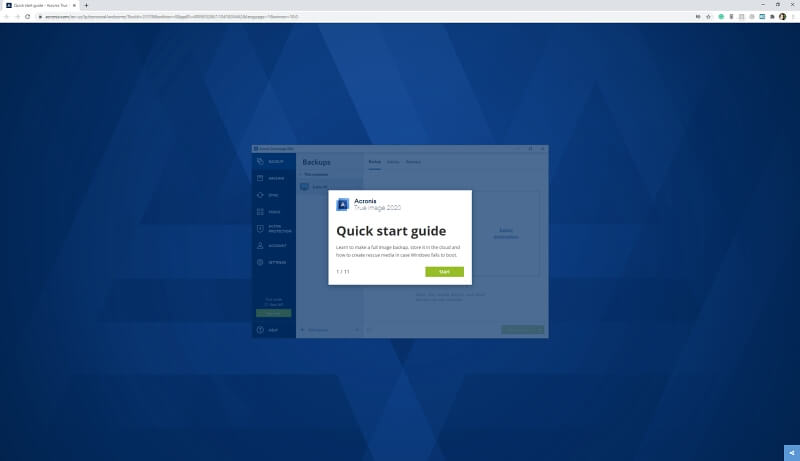 Acronis starts well right out of the gate, thanks to its handy quick start guide that opens in your browser as soon as the installation finishes. It might be nice if this was a locally stored file instead of an online guide. However, it's still perfect for introducing new users to the process of creating a disk image and storing it on the Acronis cloud.
If you're the type of person who learns better by doing, ATI also has a built-in walkthrough for new users within the program itself. It's optional and skippable, but if your goal is to create a disk image for backup purposes, you might as well go ahead with the process.
The on-screen walkthrough gives a quick overview of the most commonly used tools in Acronis and provides them an extra chance to do a bit of self-promotion. Once you read through it all (or check the 'Do Not Show Again' box and then click Skip), you're presented with the main dashboard where you can access each feature.
Disk Imaging with Acronis True Image
Creating a disk image is incredibly simple with ATI. It's done under the 'Backup' tab, as Acronis tends to view everything in the context of backups. While it's a slightly unusual way of looking at disk imaging, it's perfectly accurate, so don't let it throw you off.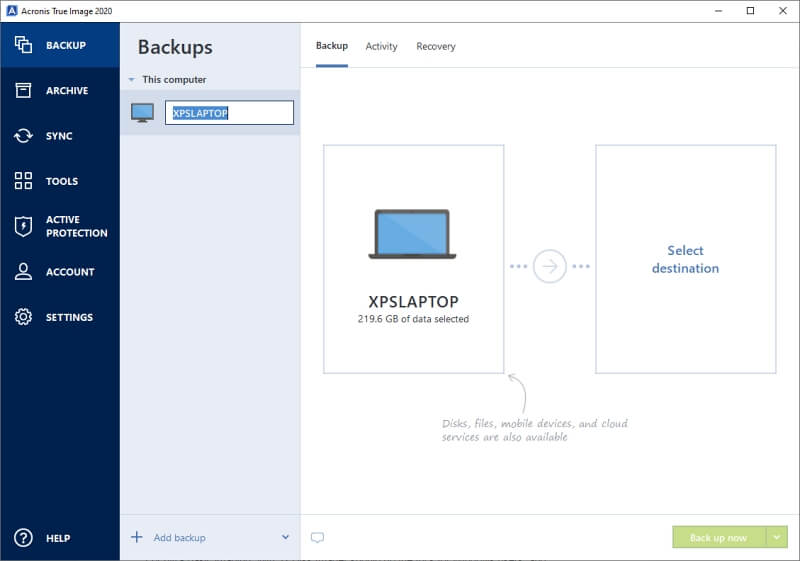 You can choose to create an image of your entire computer (the traditional approach), specific disks or partitions on your computer, or selected files and folders. You can back up to an external drive or a network drive like a NAS system. If you purchase the Advanced or Premium edition, you can also save your disk image to the Acronis Cloud.
One of the few things that I find disappointing about ATI is that you can't save your images in one of the more common disk image formats like an ISO or DMG file. Instead, your backups are saved as Acronis' proprietary TIB files. They're neatly compressed and effective, but they only work with Acronis. If you need to create an ISO image, you'll have to try one of the other programs in this review.
Disk Cloning with Acronis True Image
Cloning your disk to a new drive is about as simple as creating a disk image backup, but the option is tucked away in the 'Tools' panel. It's also worth pointing out that this is one of the only features that are locked out for users running in Trial mode. You'll have to subscribe to one of the yearly plans to access it.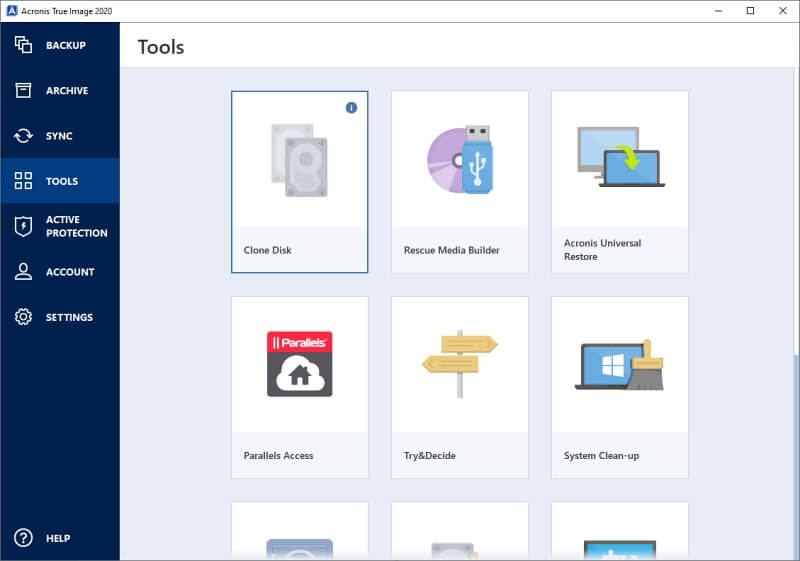 It will also only run if you've got more than one drive already connected to your machine. I'm not sure why, as it forces me to connect an external drive before I can even take screenshots of the process, but I suppose it's just an odd little quirk.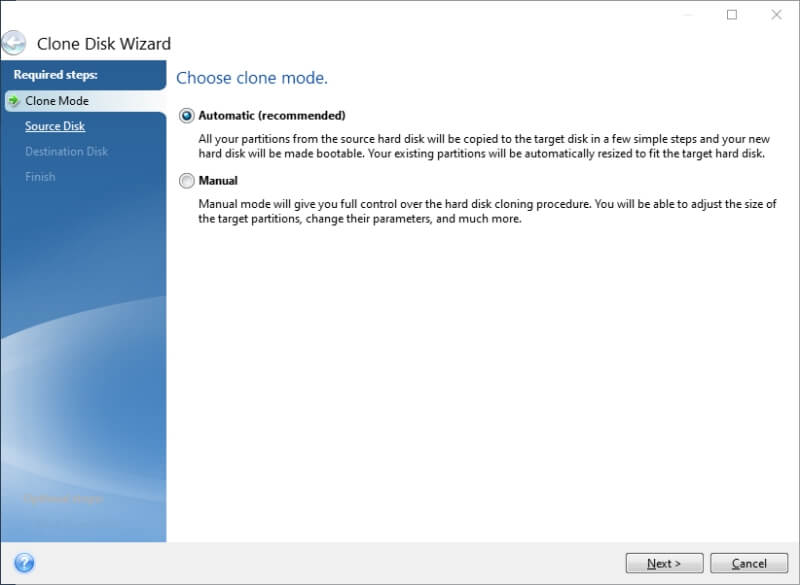 I also don't know why Acronis didn't update the interface for the Clone Disk Wizard to match the rest of the program, but it's still extremely easy to use. If you want the program to make all the decisions for you, choose the recommended 'Automatic' mode. All you have to do is set your source disk and target disk, then wait as Acronis handles everything else. Manual mode offers more control over partitions and their parameters.
Extra Features
Probably the most useful extra feature in Acronis True Image is the ability to create recovery media. The Acronis Media Building allows you to turn an external drive like a USB thumb drive into a tool for recovering damaged systems in just a few easy steps. You can use Linux or Windows PE (Pre-installation Environment), choose your version of Windows, and even add your own hardware drivers for printers, etc.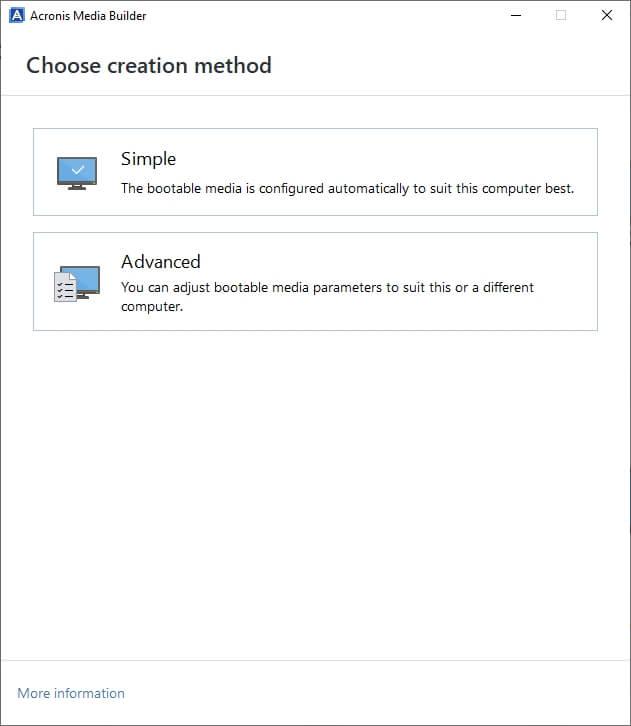 Most of the updates in the latest versions of Acronis tend to focus on anti-malware; Acronis Active Protection is where you'll find all the settings and info related to it. For my anti-malware needs, I prefer a dedicated program like Malwarebytes Anti-malware. If you don't already have a solution, AAP might give you some added peace of mind.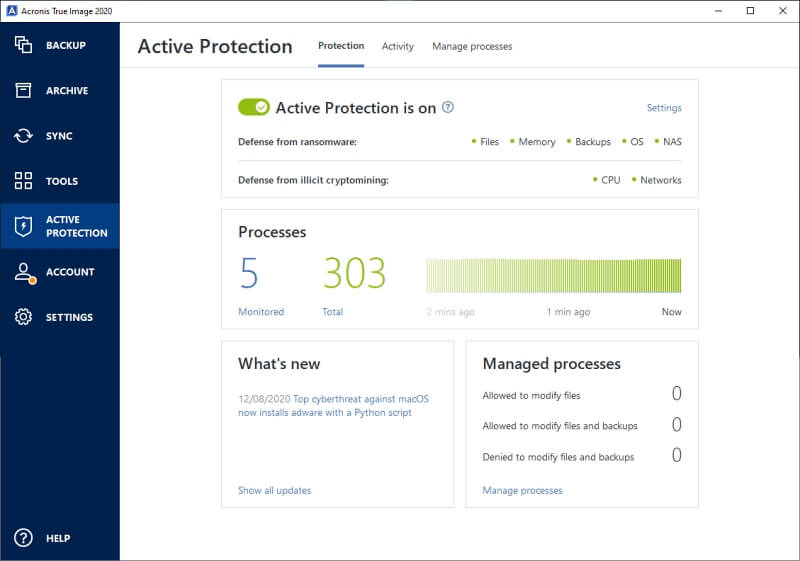 Acronis Active Protection claims to "use AI to stop ransomware and crypto-jacking in real-time." I'm not sure if this is different from the heuristic systems that anti-malware software has been using forever, just dressed up in a fancy new "AI" clothing, but it's still a solid feature to include. I haven't ever had a ransomware scare, so I don't know precisely how effective it is. Either way, ATI should never be your only line of digital defense in the first place.
Here's another buzzword: blockchain. You can use blockchain technology to digitally 'notarize' your backups, i.e., to verify your backup hasn't been tampered with. Blockchain is most commonly mentioned in the context of cryptocurrencies like Bitcoin. With Bitcoin, blockchain is used to ensure that digital currency is properly transferred between users.
However, like many new technologies (looking at you, "machine learning"), blockchain has become a glittering generality. Many developers incorporate it into their design and marketing processes regardless of whether it's used effectively (or even really used at all).
I'm on the fence about whether this example is really necessary, helpful, or just a marketing stunt. I suspect that if you need to be absolutely certain that your data integrity is secure, you'll choose a far more expensive enterprise-level solution. Still, maybe blockchain verification will give you additional peace of mind.
You can read our full Acronis True Image review here.
Best Free Hard Drive Cloning Software
The world of freeware can often be frustrating. But for extremely common tasks like disk imaging and cloning, there are some decent free options available.
Best for Windows: Macrium Reflect Free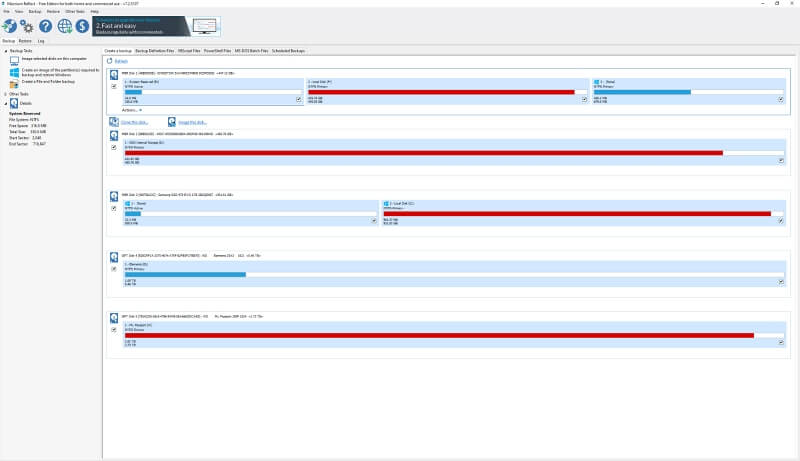 If Acronis True Image doesn't sound like your cup of tea (or if you don't like the price), then perhaps Macrium Reflect will be more your speed. It provides the essential features of a good disk imaging/cloning program, namely creating disk image backups and cloning your drive to a new one.
Unfortunately, Macrium hasn't really devoted much time to the user experience side of things. This is a real shame because Reflect is a great program from a technical standpoint. It's just not designed with casual home users in mind. The interface design can be confusing, and there is no introductory information or on-screen guides to help new users.
This is noticeable right off the bat. For some reason that I cannot grasp, Macrium forces you to use their separate download agent to download the Free version of Reflect. This seems unnecessary to me, but I suppose it must make sense to someone, at least.
Creating your backup Image is fairly simple. If you're like me, though, things can look overwhelming if you have a lot of drives in your computer (see the screenshot above). Select the drive you want to image and click 'Image this Drive.'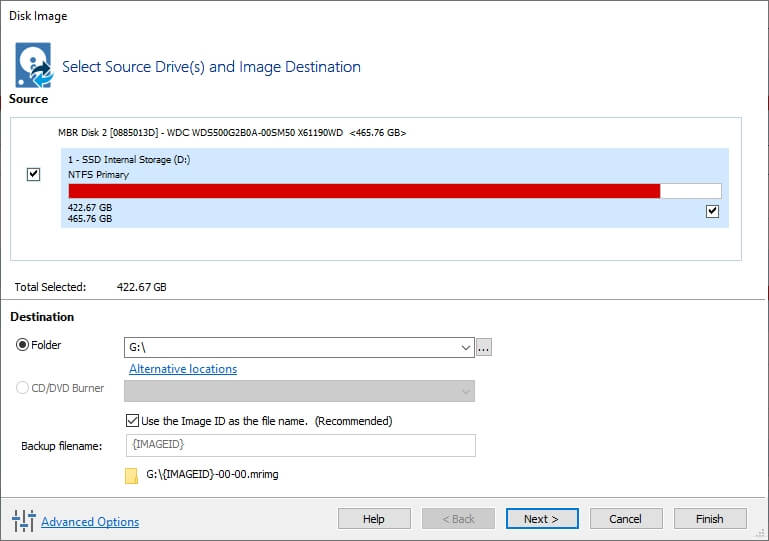 Once you've chosen your source and destination drives, you can choose to set up an optional scheduled backup plan with a range of different styles. You can configure full backups, differential backups, incremental backups, or combinations that match your specific needs.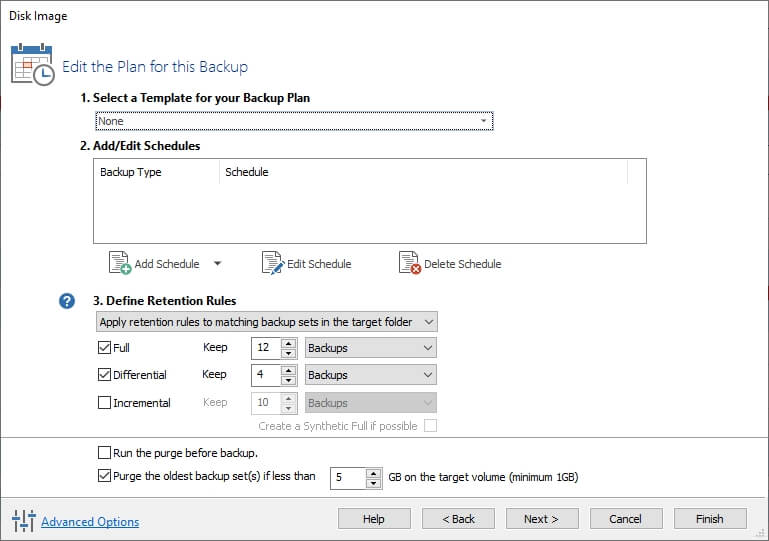 The cloning process is even simpler. Select the drive you want to clone, select your destination drive, and that's all there is to it. You can customize a few settings in the 'Advanced Options' menu, but the default settings are fine for most situations.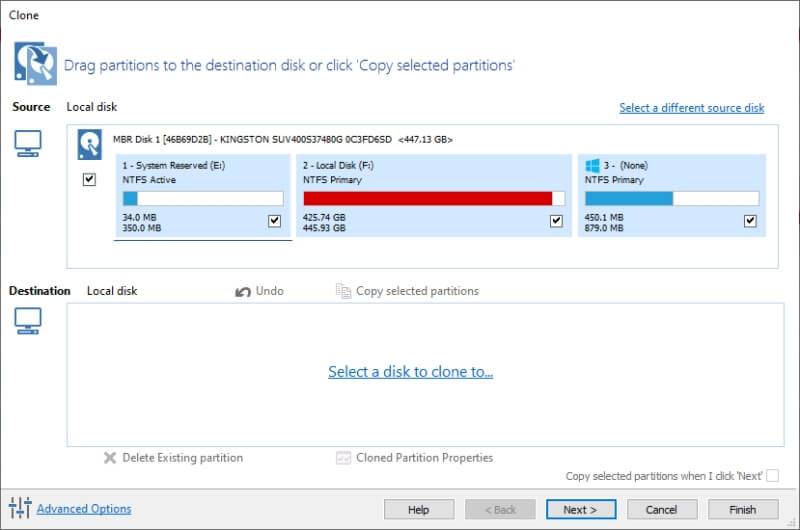 Best for macOS: SuperDuper!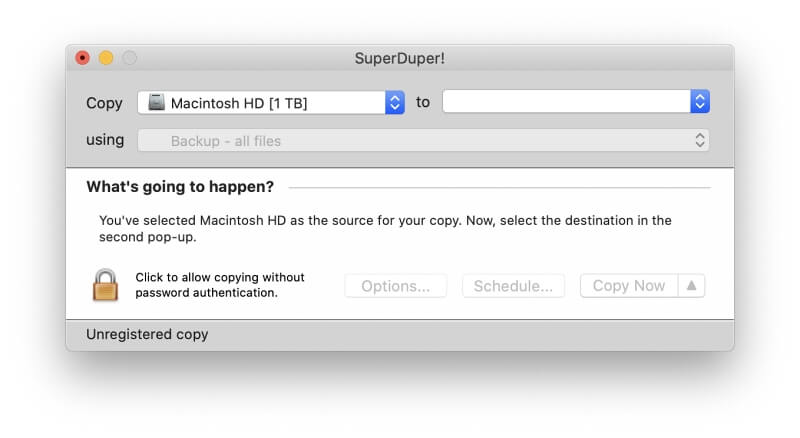 SuperDuper! from developer Shirt Pocket is one of the oldest macOS disk tools still in development. It was first launched in 2003, just a couple of years after the release of the first version of OSX, and it has been actively maintained ever since. It's available in both free and paid versions. However, the free version restricts you to basic imaging and cloning with no extra bells and whistles.
The installation process is a bit more complicated than a typical macOS program because you have to authorize SuperDuper to write/copy to/from your drives. However, it's still straightforward enough thanks to the handy on-screen instructions that walk you through the authorization process.
The program is also quite simple to use due to its stripped-down interface. You choose your source drive, then choose whether you want to copy it to another connected drive (cloning your old drive to a new one) or save it as an image file. You can also create basic schedules and customize how you want your image to be updated. While they use different terminology, this is very similar to choosing between differential and incremental backups.
The Paid Competition
As you'd expect, there are many competing programs in the world of disk image management. Some are much better than others, but in case Acronis True Image doesn't appeal to you, one of these options should do the trick.
AOMEI Backupper Professional
Windows only, $49.95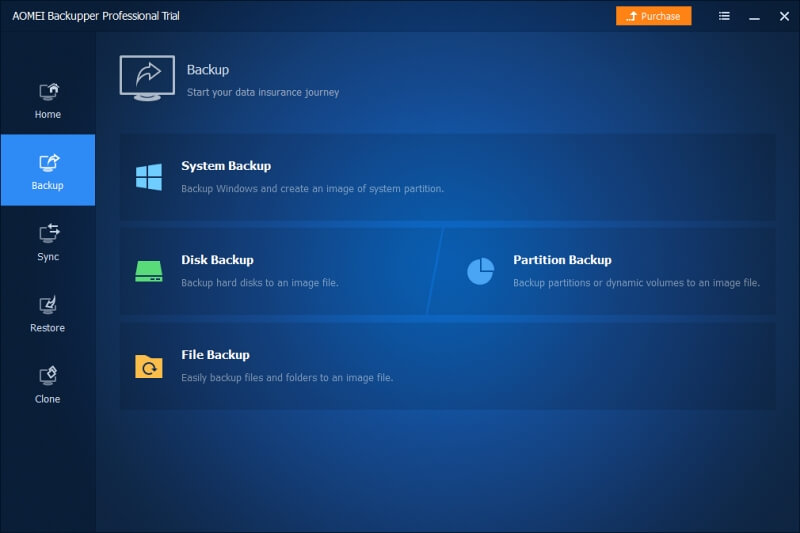 AOMEI Backupper is a simple and effective disk backup image creator and driver cloner for Windows. The user interface is clear and well-designed. A helpful knowledge base on the AOMEI website opens as soon as the installation is complete. Creating an image backup of your drive or partition is easy yet customizable, and you have full control over scheduling and backup type.
I think my favorite part of AOMEI Backupper is their writing style. From the name to their motto 'Keep Global Data Safer' to the description 'Start your data insurance journey' on the Backup tab, it all feels strangely earnest—though definitely in a good way.
AOMEI Backupper has come a long way since the last time I tested it out. It's now my runner-up choice for the best disk image and cloning software. It only loses to Acronis True Image by a very slim margin, mostly in the 'extra features' category. Backupper can't create custom restore media, and it doesn't offer any way to integrate with a cloud storage system. That being said, it's still a great choice for a lot of home users.
EaseUS Todo Backup
Windows only, $23.20 for the current version or $47.20 for lifetime updates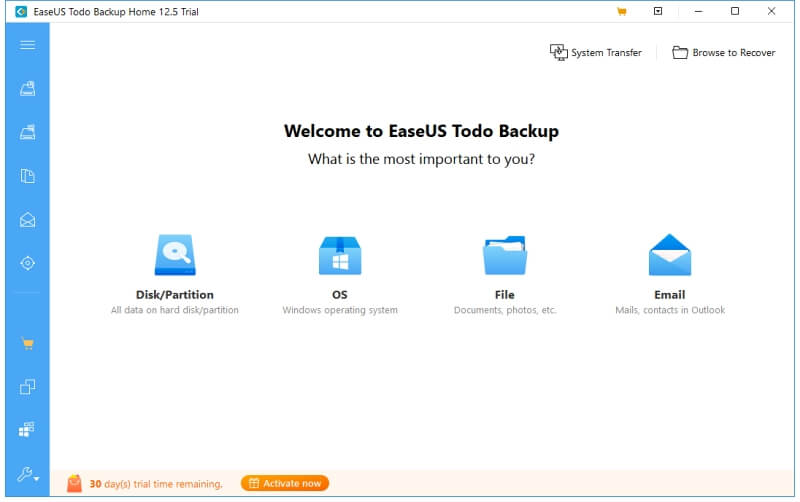 EaseUS Todo Backup is a barebones disk image & cloning solution, but that doesn't make it a bad choice. It provides simple disk image backups and cloning in a simple user interface (aside from a few very minor translation issues affecting clarity). Like most of the other programs in this review, it stores your images in a proprietary format, but that seems to have become an inescapable trend.
Todo Backup offers scheduling options, although they are a bit more limited than those found in the best programs we reviewed. It does allow you to set the computer to wake up from sleep mode to perform backups. However, it doesn't give you much control over your image backup types, which can dramatically increase the time they take to create.
Perhaps the most appealing part is the price, as this is by far the cheapest paid option in this review. If you're looking for an affordable, one-time purchase that doesn't have any of the extra features found in Acronis True Image, EaseUS Todo Backup might be a great choice.
Macrium Reflect
Windows only, $69.95 for 'Home' edition
In addition to its handy free version, Macrium Reflect is available as a paid program. As with the free version, it is a great system that's only marred by a few simple flaws on the user experience side of things. For many home users, the free version is going to be enough for your needs, but there are some nice additional features that are only available in the paid version.
Probably the most useful feature that's restricted to the paid version is incremental backups. However, the ability to do what's known as a 'bare-metal restore' is also very helpful for installing your image on a new computer. The ability to only image specific files and folders from your drives is also a paid-only feature. I'm not sure this feature alone is worth it.
There are actually a whopping 7 (count 'em, seven) different versions of Macrium Reflect. The Free or Home versions cover most home use cases. You can see a full comparison of the different options here.
NovaStor NovaBackup
Windows, $49.95 per year subscription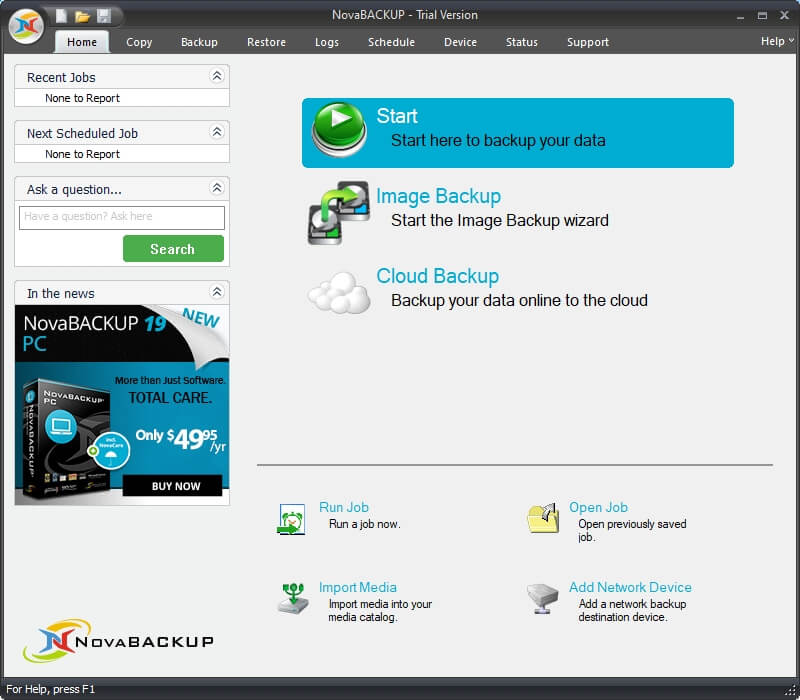 Note: if you're visiting the NovaBackup site using the Chrome browser, you might not be able to complete the download properly. I had to use Edge to get the form to display the download link properly, which didn't instill much confidence in their quality assurance process.
NovaBackup has been around for a decade or so. NovaStor claims to be industry leaders in backup and recovery software. However, I got the sense that they were better at marketing than software development. Perhaps I was just put off by the download issue mentioned in the note above.
However, things didn't get much better once the program was installed. The interface is user-friendly enough, despite looking like it hasn't been updated since the program was first released.
At least, it's user-friendly when it works properly. After starting the Image Backup wizard, things started to go wrong. I'm not sure if it was due to an unspecified limitation on the trial version I was testing or just sloppy coding, but none of the buttons in the Image Backup window below were clickable (except the 'X' in the upper right, thankfully).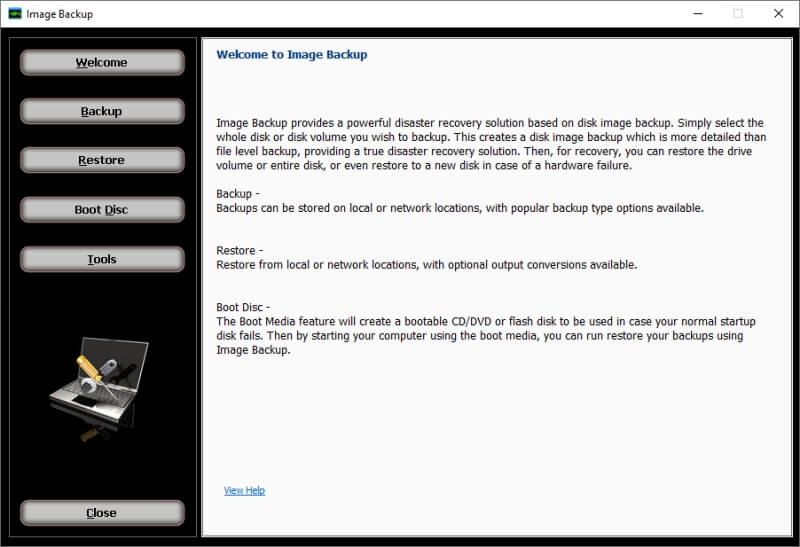 I could still navigate the program, as long as I used the keyboard shortcuts highlighted in the button text. By that point, I already knew this wasn't going to be a program I could recommend. Perhaps your experience will be better with the paid version, but I wouldn't want to give money to a developer that can't code clickable buttons properly.
Some More Free Alternatives
Disk cloning and imaging is such a common and essential practice that there is a wide range of free programs available to help you. As a rule, you're not going to get the same level of features and polish as you would from a paid program, but if you're just making one Image or clone, they may do the trick.
DriveImage XML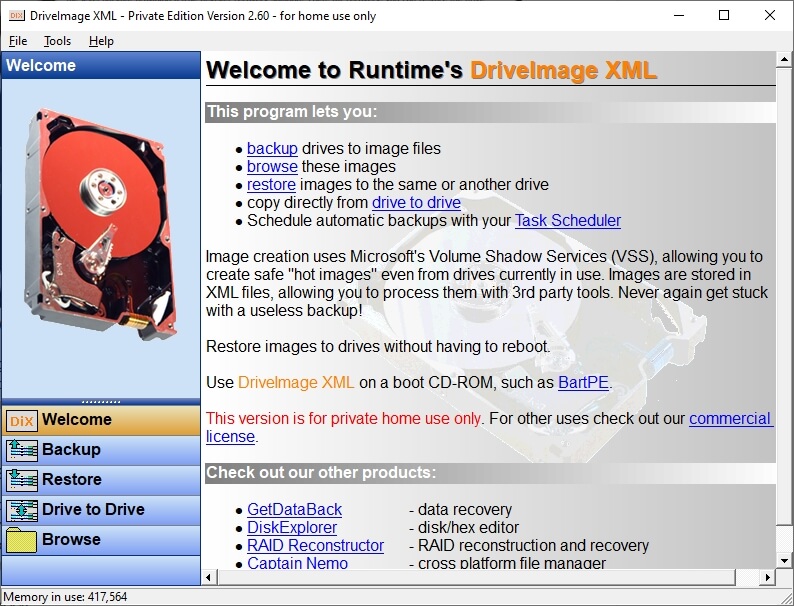 Unlike most popular drive imaging tools, DriveImage XML uses eXtensible Markup Language to create drive images paired with a DAT file. This allows them to be processed and edited by other software, which can be a great help in the open-source world.
The tool itself is simple enough to use and quite effective, though the interface leaves a lot to be desired from a design perspective. I suppose it could always be worse, though (*cough* CloneZilla *cough*).
I wouldn't want to use DriveImage XML as a continual backup system thanks to its lack of scheduling and image customization options, but if you're in a bit of a bind and just need to create a single backup, you sure can't argue with the price.
CloneZilla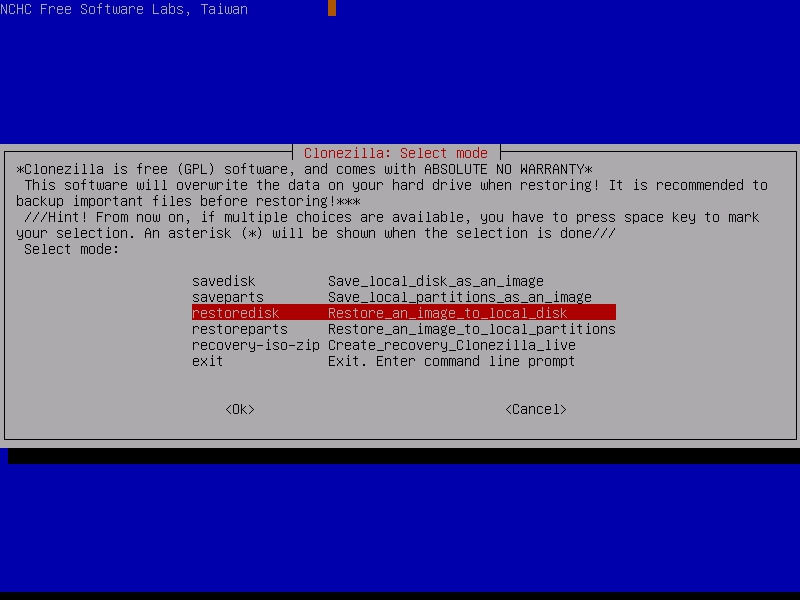 CloneZilla might be effective, but it is not user-friendly. It's designed for the hardcore Linux user who is completely comfortable working with unpolished software—yet for some reason, every article about disk imaging software mentions it. So while I'm writing about it here, it's more to point out that it's not the best choice for 95%+ of home users. I can't even show you my own screenshot because of how it's designed, but here's one from the developer.
CloneZilla is a complex piece of software that actually runs off a bootable USB drive. The drive contains a heavily-modified version of Debian Linux, which loads and then runs the CloneZilla application. As you can see above, the interface is straight out of the 80s. I really can't recommend this to anyone except those comfortable with Linux, custom boot drives, and other esoteric stuff.
Perhaps these articles should stop including it entirely? I suppose it does do a good job, as long as you can get it to work. I still don't recommend it.
Drive Manufacturer Software
In some cases, drive manufacturers create their own cloning software to smooth the user experience while upgrading your computer to use their fancy new drives. Unfortunately, they're not doing this entirely out of the goodness of their hearts. Some manufacturers restrict their software to work exclusively with their own proprietary drives.
It's a bit disappointing. For example, the Samsung cloner I recently used when upgrading my PC to an NVMe SSD was simple and effective. While using it, I thought it would be nice to use it with other drives. Still, proprietary backups might be just what you need, so here's a list of quick links to popular manufacturers who provide their own cloning tools:
How We Picked Hard Drive Cloning Software
Selecting the best disk cloning and imaging software from a wide range of options isn't easy, but here's how we broke down the essential elements.
File System & OS Support
Once you've reached the point of working with disk images, you might be starting to experiment with more than one operating system. Many Linux users still maintain a Windows machine and vice versa. But even if you stick to a single OS, there are many different file systems to choose from.
A good disk cloner supports a wide range of file systems so you don't need to find a new program if you want to experiment with your options. Ideally, it should also have versions available for multiple operating systems. That way, you don't have to learn a different program for each machine you work on.
Incremental & Differential Imaging
Creating a disk image of a computer that's regularly used can be a very long process. Most people now have huge amounts of data that take a long time to back up. However, people don't usually change huge amounts of data every day or even every week. It's possible to create one full backup image and then only update the backup Image sections where files have been changed or added.
This dramatically speeds up the image creation process and allows you to maintain fully up-to-date backups with a minimum of time investment. Different users will have different requirements, so the ability to customize your backup type and schedule is an important feature.
Disk Image File Types
There are many different methods of storing disk images as files. Naturally, some are more popular than others. For a long time, the ISO file type was most commonly used on PCs. Many macOS users will recognize the DMG file type used whenever you download and install new (non-App Store) software. There are other popular file types, such as the BIN/CUE combination, which is more commonly used for optical disks.
Unfortunately, most of the best disk image programs use proprietary file types that are only readable by the application that created them. This isn't ideal, but it doesn't have to be a dealbreaker unless you specifically need to create a certain type of disk image. For most home users, this shouldn't cause any issues.
Personalized Restore Images
One of the most important reasons to create a disk image is to maintain a customized and personalized backup of your computer and all your data. Suppose something happens to your file system (data corruption, hardware failure, ransomware, or human foolishness an accident). In that case, you can just clone your latest backup image onto a working drive, and your computer is good as new.
Ideally, the best disk imaging software allows you to maintain a backup image automatically on a schedule. Most people (myself included) are generally pretty bad at remembering to perform regular backups. Automating it solves that issue.
Bootable Drive Images
In case you're not familiar with the term, a bootable drive is used to load or "boot" an operating system. In most cases, your main storage drive is also your primary bootable drive, which loads Windows, macOS, or whatever flavor of Linux you're using. They are also commonly used on portable USB drives for disk repair or other system recovery tools.
Simply copying a disk image file to a new drive isn't enough to create a bootable drive. More needs to be done to prepare the file system. However, your disk imager should be capable of handling the configuration aspects automatically. Usually, nothing more than a simple checkbox should be required to set up a bootable image. Still, it's nice to get in under the hood and configure things if you have more specific requirements.
Ease of Use
As with all software, ease of use is an important consideration. If you're working on projects that need a disk image, they probably take most of your concentration; you don't want to have to fight with your backup software at the same time. User-friendly guides, on-screen tips, and a well-designed interface can make all the difference in the world—especially if you're feeling stressed by a data storage issue.
Support
Working with data is a big-money industry. There's more to it than lost data recovery. So much of our lives are digital now that there are often very high stakes, and you want support available if you run into a problem. Good disk cloning/imaging software includes a robust support solution from its developers to help you navigate any issues.
The best support system is usually a ticket-based email system. You submit a 'support ticket' to the support team, sort of like taking a number at a deli counter, and the company handles support requests in sequence.
Final Words
There are plenty of others floating around. If your manufacturer isn't listed above, a quick Google search should get you to the right place. Of course, none of these options are in the same league as Acronis True Image or the other programs mentioned here. If you're only going to use them once, though, they might be good enough.
Do you have a favorite hard drive cloner or a disk imaging software that you love that I've left out of this review? Let me know in the comments, and I'll be sure to take a look at it.