As a programmer, software developer, software engineer, or tester, you're almost guaranteed to spend most of your workday sitting in a chair. Most of the time, you probably don't think about it. Why would you? You're busy trying to get that last piece of code working to meet the deadline for that all-important release.
But over time, your choice of seating can make a difference. For any programmer, it's essential to find something that is both comfortable and ergonomically supportive. Comfort keeps you going during those long hours of intense coding; proper support keeps you healthy for the long term.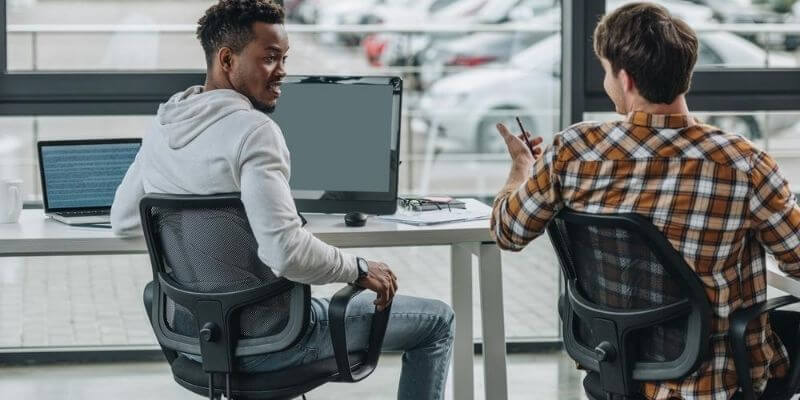 If you are in the market for a new chair, you will find that there is a vast selection to choose from. Let's comb through the noise and look at our top choices.
Looking for a top-of-the-line chair? Willing to truly make an investment in your comfort and health? The Herman Miller Embody is the one for you. It is our top pick because of its features, innovative ergonomic design, and trusted brand name. With over 100 years in the business, it's hard to go wrong with Herman Miller.
If you want a chair that significantly enhances your programming experience but doesn't break the bank, the Duramont Ergonomic is our best midrange pick. It has the support and features we were looking for at a price that doesn't break the bank.
The Boss Task Chair is our top budget pick. If you don't want to spend a lot of money but still want to ensure your health and comfort, this one fits the bill. It's not flashy but has the support you'd find in most higher-end products. You will be surprised at the quality you get with this product.
Why Trust Me for This Guide
Hi, my name is Eric, and I've been a software engineer for over 20 years. As a programmer, I have worked in a variety of environments. Over the years, I've found that the chair I use while working can be a predominant factor in being productive.
As a young programmer, I was able to sit on just about anywhere, even a bar stool. There were times when I set my computer on a tall surface and stand while I wrote code. I was excited and focused; I never spent much time thinking about it.
As the years go on, I've discovered chairs with little to no support can take a toll on my body. An uncomfortable or poorly adjusted chair can take away from the concentration and enthusiasm I once had as a new programmer.
When I have a nice chair and get it adjusted just right, I become possessive of it. I remember once when someone moved my chair overnight and switched it with another one. I tried to use a replacement, but could never get it adjusted and positioned quite the way I had before. I searched for days, bugging other co-workers until I finally found the original that made me feel comfortable and ready to write code.
Why Are Chairs a Big Deal for Programmers?
Do you really need a high-quality chair? I sometimes sit on my couch on my knees or stand at my breakfast bar in the kitchen when I program. With a laptop, it's possible to work anywhere, in any sitting or standing position. You can even work sitting on the floor if you want. The thing is, though, those options don't always create the best environment for writing code.
As a programmer, we need a place to concentrate. We have a desk where we have all of our tools available—multiple monitors, headphones, keyboard, mouse, etc. Those tools should also include a premium chair, and the wooden chair from your dining room table probably isn't going to do the job. You need one so comfortable and supportive that you forget about it; after 8 to 10 hours of sitting in front of your PC, you're not thinking, "Why does my back hurt?"
There are two different types of office or work chairs. They are usually classified as "task chairs" or "executive chairs." A task chair is for someone who is doing intensive work or "tasks," often at a computer, and needs the extra support and adjustability.
An executive chair is for someone who spends more time on the phone, casually looking at their computer or meeting with clients or other executives. It provides more comfort than support and doesn't typically have the level of adjustment that a task chair has. Executive chairs often have a high back and are made of leather or pleather.
Because most programmers will require and benefit from task chairs, we focus on them in this article. However, we look at a couple of non-traditional seating options near the end.
Why Get a Better Chair?
If you've programmed for any length of time, you might physically feel the effects of working from a chair. Don't overlook what chair you sit on! It can lead to issues with your back, neck, shoulders, legs, hips, even your circulation.
Whether you work from an office or your home, you should consider a chair that enhances your ability to concentrate on your work and keep you healthy. In fact, anyone in a software-related job should take a look at the chair they are using.
Ergonomics are a vital factor for anyone who spends long periods at a desk. Studies show that proper ergonomics lead to healthier and more productive workers who have fewer long-term health issues. I can tell you from experience that it's hard to concentrate on writing code when you have chronic neck, back, or shoulder issues.
Best Chair for Programmers: The Winners
Top Pick: Herman Miller Embody
The Herman Miller Embody is worth it: you may want to work overtime just to spend more time sitting in it. This chair provides high-end comfort and support. It's made to last and backed by a 12-year warranty.
Let's take a look at the features that make this chair best-in-show.
Designed with input from more than 20 physicians with PhDs in biomechanics, vision, physical therapy, and ergonomics
Outstanding pressure distribution
Natural alignment
Chair movement is both easy and healthy; no need to strain yourself when moving around your work area
Pixelated support keeps you perfectly balanced, yet gives you the feeling of floating
The matrix of pixels in the seat and back distributes your weight evenly and conforms to your body's every movement
The pixels help you maintain circulation by encouraging movement and reducing pressure on your body
The "Backfit" adjustment is designed like a human spine. You adjust the back to fit your spine's natural curve so you can have a naturally balanced posture
"Backfit" support conforms to your every movement providing continued support as you recline or lean forward
Four layers of support using different materials; they work together to fit any shape
Layers are designed to promote airflow, keeping you cool as you work
Adjustable arms reduce shoulder strain
Multiple colors available
12-year warranty
The Embody is like the high-end sports car and luxury car of office chairs: you get high performance and superior comfort. It's a feat of thoughtful, exhaustive, ergonomic design: no compromises were made in creating the perfect chair.
The support and maneuverability promote movement, making those simple moves to reach your keyboard, phone, or desk drawer a breeze. The promotion of movement keeps your body from stagnation, increasing your circulation and muscle health.
When it comes to chairs, this one is a technological marvel and a landmark in product design. While most typical office chairs are bad for our health, this one is designed to improve it. The Embody may be a significant investment, but its very purpose is to keep you comfortably writing code for years to come. Take a look here if you want to see more about how it is designed.
Best Mid-range: Duramont Ergonomic
If you or your company are not ready to make a $1600 investment in a chair like our top pick above, you might want to look at those that are more in the "middle of the scale" budget-wise. In that case, the Duramont Ergonomic is a superb choice.
It includes most of the features you need in a chair, is at the low end of the mid-range price point, and performs as well as most upper-tier chairs.
A comfort level that rivals any task chair on the market
Includes a headrest
Shockingly adjustable. You can adjust the headrest height and angle, lumbar height and depth, armrest height and distance from the seat, seat height, backrest tilt, and tilt tension
The breathable mesh back with soft, comfortable support allows airflow to help keep you cool
Quick adjustment controls make it easy to make your chair comfortable
Easy to assemble—8 simple steps
A variety of positions will allow almost anyone to find the right setup
Weight capacity of 330 lbs
Soft cushion seat
Sturdy armrests
Rollerblade caster wheels let you to easily maneuver around your desk area
100% money-back guarantee; try it for 90 days, and if not satisfied, you can return it
The Duramont Ergonomic is a terrific all-around performer. It's much cheaper than most chairs in this category but comes with a remarkable feature set.
This one is also easy to adjust and breathable. My favorite feature is the rollerblade caster wheels. Whether you are on a hard surface, office carpet, or thick carpet at your home, you can easily roll into position and get to work. There's one drawback to this chair, and honestly, I don't find it a big deal: you do have to assemble it. Many other chairs come pre-assembled. That said, Duramont put a lot of work into making assembly a simple, 8-step process. It shouldn't be too difficult to get going with the Duramont Ergonomic.
The 90-day trial and 100% money-back guarantee are certainly a plus with a purchase like this. You can try it out; if you are not satisfied, you can always send it back for a refund.
Budget Pick: Boss Task Chair
If money is a concern, the Boss Task Chair might be the perfect choice for you. While there are fairly reasonable prices on mid-range chairs such as our last pick, the Boss Task Chair provides adequate comfort, protects from long-term health issues, and fits into a tight budget.
Here's a quick glance at its features:
A simple design that is easy to set up and adjust
The low profile allows it to fit in and be used in small spaces
Lightweight, easy to move around
Breathable mesh back
The contoured 4-inch high-density seat cushion means your bottom will be comfortable even after hours of sitting
The synchro tilt mechanism allows you to lean back while ensuring that your feet can still stay on the floor
Adjustable tilt tension control lets you set the recline tension to your liking
Pneumatic gas lift seat height adjustment makes it easy to get a comfortable setting when at your keyboard
Adjustable arm height keeps you from straining your elbows and shoulders
Hooded double-wheel casters make it easy to roll around your cubicle or home office
This budget pick is packed full of features and has the ergonomic qualities to keep you healthy when working long hours in front of your computer. I like that it is lightweight and compact, allowing it to fit into tight office spaces.
The seat cushion makes this chair extraordinarily comfortable for the price; its adjustments will allow you to set the chair up to have the support you need. The synchro tilt mechanism makes a significant difference when reclining in the chair. It enables the seat to move along with the back so that your feet can remain on the floor.
One of the few things that this chair does lack is adjustable lumbar support. While the tight mesh backing does include firm lumbar support, it stays where it is. This can be solved by purchasing a separate lumbar support device if you find that you need a change.
Whether you are purchasing the chair yourself or your company is footing the bill, many of us have to work on a tight budget. But that doesn't mean you have to sacrifice your health and comfort. The Boss Task Chair is a cost-efficient, ergonomic solution.
Best Chair for Programmers: The Competition
We love our top three picks of chairs for programmers. However, there's tons of competition out there. One of these alternatives might be the chair you're looking for.
Some high-end task chairs make sitting at your desk so comfortable you may not want to leave at the end of the day. It's hard to beat our top pick, but the Steelcase Leap Task Chair is a strong competitor. Here are just a few of its features:
LiveBack technology changes shape to mimic the movement of your spine
4-way adjustable arms
Natural Glide System allows you to recline and keep your focus on work without straining or losing support
Tested up to 300 lbs with no loss in performance
Its patented technology has been proven in studies to increase productivity
If you're looking at a top-of-the-line chair, you're no doubt more selective than most. If that's the case, you need to take a serious look at the Steelcase Leap Task Chair. It may not have quite as many features as our top pick, but it does have some unique technology that will help you perform all day long. LiveBack technology provides therapeutic relief for many back and spinal issues.
The Natural Glide System makes this chair worthy of its price tag. For those who like to recline in our chair, its smooth transition keeps you from feeling like you are going to suddenly fall back and tip over. If you are serious about investing in a high-end task chair, it is worth taking a look at.
The Herman Miller Sayl is the popular chair maker's entry into the mid-range product line. This stylistic beauty looks cool and features the support and comfort Herman Miller chairs are famous for.
The unframed 3D intelligent back gives support while giving you the freedom to move
3D back provides sacral support and allows your spine to maintain its natural S shape
Helps you maintain better posture and reduces fatigue
Seat adjusts between 15.5 and 20 inches
The eco-dematerialized design uses less material than ordinary chairs
This chair's modern look shows its eco-dematerialized design, which means it uses fewer materials to be environmentally friendly. The design does not take away from its ergonomic functionality. In fact, this chair can proactively help with your posture by helping to strengthen your back and core muscles. This helps reduce fatigue and allows you to work long, productive days in the chair.
This is an outstanding mid-range chair, but its price was a little higher than our winner. With that, getting a Herman Miller chair (it's kind of like getting a Tag Heuer watch) for this price still seems like a bargain, so it may be worth a few extra bucks to you.
The Alera Elusion might be considered a budget chair. Still, it will perform as well as most others in higher price ranges. It's comfortable and is loaded with adjustments to ensure you have the support you need.
Multifunction back adjustment allows you to adjust the back angle relative to the seat
Adjustable tilt allows free floating or infinite locking positions
Cool airflow with a breathable mesh back
Premium fabric cushion is contoured to keep you in the seat
Waterfall seat edge relieves pressure on the legs
The easy-to-use pneumatic adjustments make this chair a pleasure to configure and use in any desk environment. It's a terrific value for anyone who does not want to spend a fortune on truly ergonomic seating.
So why wasn't the Elusion our budget chair winner? While it fits well in our budget category, the price was a bit higher than some of the others we looked at, which is the main reason it is not the top budget pick on our list.
If you feel you can't even afford to buy a budget chair, consider the BERLMAN Ergonomic. Even at the lowest price point of any other seat on our list, the Ergonomic provides adequate support and enough comfort to keep you going. This is a high-value chair.
Light, breathable mesh back will keep you from sweating
The lumbar support will prevent or relieve lower back pain
A super-soft sponge seat will be comfortable for anyone
Easy to adjust the seat height for short, medium, or tall people
Back leaning adjustment allows you to recline
The sturdy base makes it durable
Easy to assemble
This one does not include adjustments for the arm or lumbar supports, so it did not make the top of the list for our budget pick.
There's no shame in purchasing a budget chair. With advancements in design and technology, even low-cost products can be a more comfortable and healthy option than most older furniture. This one fits into that category by providing all the needed support, adjustments, and a comfortable seat.
Alternative Seating
All of the options we have covered so far are task chairs that you will see most people use in an office setting. As we mentioned before, there are also executive-style chairs. Another type of traditional seating, executive chairs are usually built for comfort and covered in leather to make them look fancier.
This Ticova Executive Office Chair is an example of a typical executive chair.
Traditional task and executive chairs are not the only kinds of seating available. There are some alternative types that most people do not think about, but include some benefits far beyond support and comfort. These chairs help correct bad posture, build and strengthen muscles, increase circulation, improve balance, and help you build stamina.
It's almost like exercising while you are sitting at your desk working. It not only helps to preserve your health but helps you do so in a relatively short time. There are two non-traditional types of seating that I have experience with. The first is a kneeling chair; the second is an exercise ball. Let's take a look at both.
Kneeling Chair
This chair forces you to sit with your thighs dropped to about a 120-125-degree angle from your spine. At that angle, your shins are forced to support some of your body weight. Using a kneeling chair is not quite like sitting, it's not quite like kneeling either.
Since it has no back, it forces you to use proper posture and use your muscles to balance and hold yourself upright.
This chair helps you build strength and improve posture, and takes much of the stress off of your lower back since your legs are no longer at a 90-degree angle. Traditional chairs put most of your upper body weight on your lower back, causing lower back pain and possible damage to your lower spine.
This positioning allows you to sit upright with little effort while getting rid of the need for a chair back. It keeps you well-positioned to work at a computer keyboard and look at a computer screen, making it an ergonomic and unique way to sit while developing software.
Exercise Ball
You may have seen some people use an exercise ball as office seating. If not, you may be surprised to know that an exercise ball can make a superb office chair. I've been using one of these for a few years now and have seen enormous benefits to my back health. I don't even have to use it all day to see the benefits; a few hours a day are enough to enhance my posture significantly.
I used to suffer from severe back pain due to bad posture. After using an exercise ball, I have strengthened my core muscles, gained better balance, and improved my posture. Because of this, my back troubles have almost completely disappeared. The ball not only helps with health issues but is comfortable and easy to move around on in my office space.
One thing to think about when using non-traditional seating is that it will take some time to get acclimated. It is best to start with small amounts of time each day so that your body can adjust. Expect to experience some muscle soreness as you begin working muscles that may not have been used much in the past.
How We Pick Chair for Programmers
As with most office products, there are a wide variety of chairs out there to choose from. Task chairs are made to be comfortable, supportive, and adjustable—perfect for programmers. Below are the areas that we looked at when making our top task chair picks.
Ergonomic
This is the primary feature we looked at; it encompasses many of the others listed here in this guide. All of the features below (except for cost and durability) add up to make the chair "ergonomic."
Support
An acceptable chair furnishes support in all the right places. Back/lumbar support helps the rest of the upper body, such as the neck and shoulders. Some chairs also have a high back or headrest for even more support to the neck and shoulders.
Arm support is essential for the wrists, elbows, and shoulders, so most people will want some type of armrest on their chair. Seat support helps with your bottom, hips, legs, and feet. All of this together, when well executed, supports overall circulation, which is helpful for long hours of sitting.
Comfort
For most people, comfort is what makes an excellent chair. If it is uncomfortable, you may need to stand up and take many breaks, which is inefficient and unergonomic.
We might only look at cushioning—how soft a chair is—to decide how comfortable we believe it is. Don't forget about other aspects of comfort, especially breathability. Increased airflow with materials like mesh can keep you cool when you are working hard.
Adjustability
We all come in different shapes and sizes. For a chair to be comfortable and give support for all different body types, it must be heavily adjustable. Lumbar support, seat back height, seat positioning, tension, ability to recline, and armrest height should be adjustable on an ergonomic chair.
Maneuverability
How mobile is the chair? Does it roll well on the carpet? Part of ergonomics is efficiency; you need to be able to maneuver the chair around your cubicle or desk area to reach everything and get close to your computer. A maneuverable chair allows you to do this with ease.
Cost
For most of us, price is always an issue. But you might want to think of your chair as an investment in your health and career longevity. You can get quality chairs anywhere within the $100 to $1000 price range. Just be sure to look for the features we discuss here.
If you are purchasing the chair yourself, decide what your budget will be, and how important each particular feature is. If your company is buying a chair for you, try to convince your boss of how critical your long-term health is to your productivity.
Durability
If you are going to make an investment in a chair that might cost as much as your first car, make sure it's going to last. Look for a well-made chair from a reputable manufacturer. Any of our top picks will fit the bill when it comes to durability.
Final Thoughts
As a programmer, your seating is a tool that should not be overlooked. Hopefully, our list of chairs and alternatives can provide you with a starting point to help you find the right chair.
Do you know of any other types of alternative seating? Let us know! We would love to hear from you.